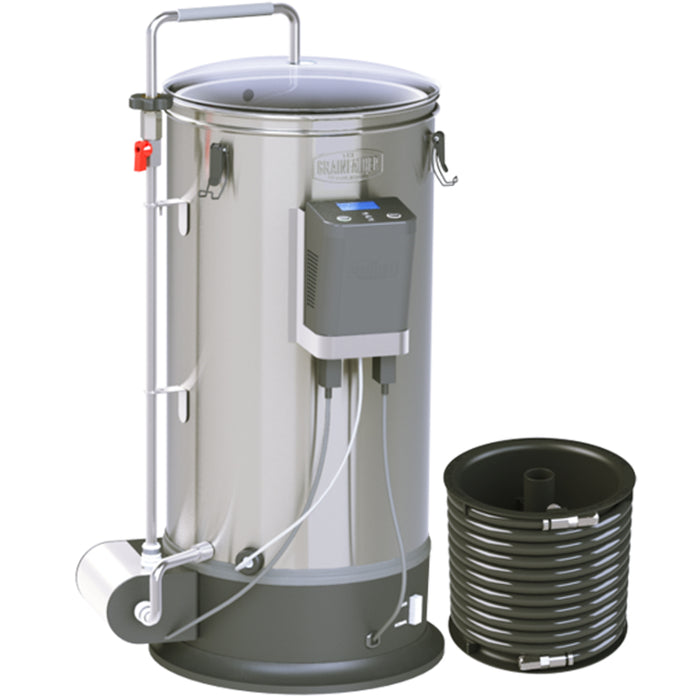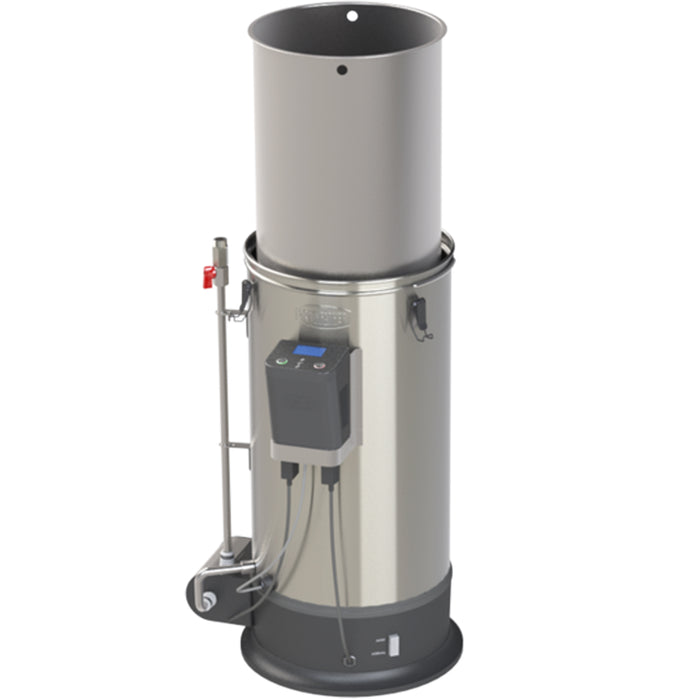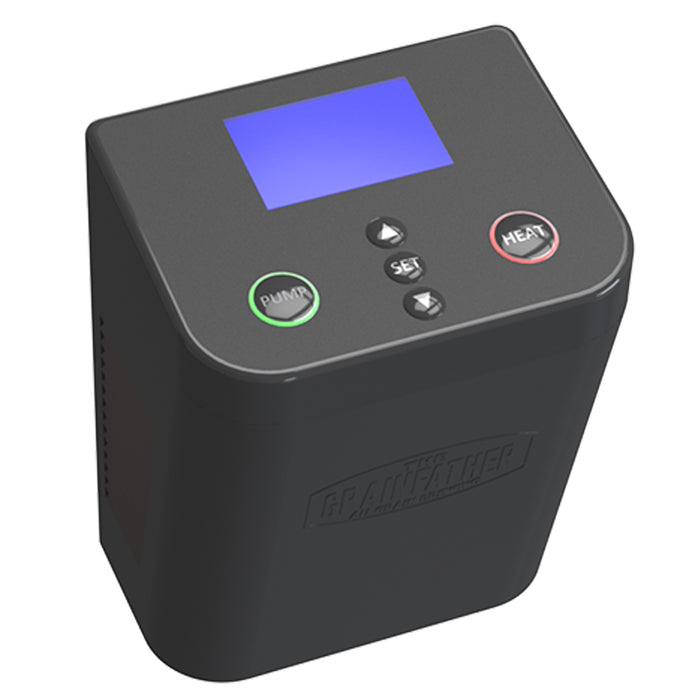 Grainfather Connect G30 V2 All Grain Brewing System 110v
by Grainfather
We believe the original 'all-in-one' brewing system is still the best!
This system integrates with your smart phone or tablet and the Grainfather app is unparalleled for recipe formulation PLUS comes with a 36 month warranty! (the best in the industry)
110 Volt
30 litre capacity, designed to brew 23 litre batches
Want more power for a more vigorous boil and a faster brew day? Check out the G30 220v. Our adaptors make it easy.
Want more beer? The Grainfather Connect G70 for larger batches.
What is the Grainfather you ask? The Grainfather is a revolutionary all-grain brewing system which makes delicious all-grain beer easily! It is user friendly and packed with innovative features. It is the perfect brewing companion for both experienced and beginner all-grain brewers. It is designed to make up to 23 L of beer from one brew.
The Grainfather Connect control box has Bluetooth connection to your mobile device so it can be controlled remotely. This allows complete automation. Pre-set your mash schedule and temperatures. Even have your mash water ready when you wake up in the morning so you can immediately start your brew day! The new controller gives you more time to relax while brewing and it will alert you when it's time for the next step.
- Electric
The Grainfather is electrically powered and designed to be used indoors. A 400 watt element is used in certain stages to minimise risk of scorching and when a gentler heat is required. A second 1,600 watt element is used to ramp quickly up to boil after the mash and when more vigorous heating is required. The Grainfather cleverly switches between the two as necessary. Heating from mash to boil takes as little as 20 minutes.
- Control Box for Heat & Power Control
Use the Connect Control Box in conjunction with the Connect App (and the recipe creator coming soon) for the ultimate brewing experience. The control box has Bluetooth connection to your mobile device so it can be controlled remotely. This allows you to multitask or simply relax while brewing and then be alerted when to return to your next step. 
Features:
Programmable step mashing
Delayed heating - fill your Grainfather with water the night before and wake up to your water at strike temperature ready for brewing straight away
Change between celsius and fahrenheit easily
Waterproof graphic display
Use in manual mode or with app
- Grainfather Connect App for Automation 
Features:
Grainfather Grain Kit recipes provided in the app
Ability to import recipes (Beer XML files) - NOTE: iOS9 and higher
Set your own boil temperature (for different altitudes)
Change between celsius and fahreheit easily
Grainfather calculators provided in app
NOTE: There is a temporary version of the Android app available)

Required Specifications for the App are:
iPhone/iPad

Hardware: iPhone 4S or higher? 
Software: iOS8 or higher??. Must have Bluetooth 4.0 or higher

Android (currently in development, temporary version available, check Grainfather Facebook page for current update)

Hardware: Android 4.3 (API Level 18) or higher
Software: Must have Bluetooth Low Energy (LE)/Bluetooth Smart
-Pump
A 6 Watt, 1,800 RPM magnetic powered pump has been fitted to recirculate the wort through the grain bed for maximum brewing efficiencies. This is also used during the cooling stage to pump hot wort through the wort chiller. The pump also makes the cleaning process quick and easy by pumping the cleaning detergent through all the pipe work. A pump filter is fitted inside the Grainfather to prevent hops and stray grain from entering the pump or pipework, keeping the wort clear while also preventing any blockages. 
- Grain Basket
A stainless steel expandable grain basket allows you to brew with anything from 4.5 – 9 kg of grain. The fitted perforated plates and telescopic pipework allow you to easily adjust the size of the grain basket to suit the size of grain bill. Fit the Micro Pipework (sold separately) for grain bills below 4.5 kg. When ready for sparging, a basket lifting handle is then inserted into the grain basket to lift it up, out of the wort. A 45 degree turn then allows the grain basket's feet to rest on the specially designed support ring to allow the grain basket to drain while you can batch sparge over the top. A Sparge Water Heater can be purchased additionally to heat your water to the specific temperature required.
- Counter Flow Wort Chiller
The counter flow wort chiller has two connection points. One side is connected to the Grainfather, while the other is connected to the cold tap water. The hot wort is then pumped through copper inner coil while the cold water is pumped through the outer in the opposite direction, providing instant cooling and heat exchange. The cooled wort can then be pumped directly into your clean, sterile fermenter. This reduces the chance of contamination as nothing is inserted in the wort, and it is only passing through the wort chiller one single time, going straight to the sterile fermenter where the yeast is added. 23 L of wort can be cooled in as little as 20 minutes. The cooled wort temperature will be cooled to approximately 5 degrees above whatever your tap water temperature is.
Système de brassage Grainfather Connect All Grain
Grainfather Connect est maintenant disponible!
 Présentation du nouveau et amélioré Grainfather. Il s'appelle 'The Grainfather Connect' et le boîtier de commande a été entièrement repensé pour s'intégrer à votre smartphone ou votre tablette.
Le Grainfather est un système révolutionnaire de brassage qui permet de fabriquer facilement et délicieusement la délicieuse bière tout-grain! Il est convivial et regorge de fonctionnalités innovantes. C'est le compagnon de brassage idéal pour les brasseurs expérimentés et débutants. Elle est conçue pour produire jusqu'à 23 litres de bière à partir d'un brassage.
Le boîtier de commande Connect dispose d'une connexion Bluetooth avec votre appareil mobile, ce qui permet de le contrôler à distance. Cela permet une automatisation complète. Préréglez votre programme de broyage et vos températures. Préparez même votre eau de mash lorsque vous vous levez le matin afin de pouvoir commencer immédiatement votre journée d'infusion! La nouvelle manette vous laisse plus de temps pour vous détendre pendant la préparation et vous alertera au moment de passer à l'étape suivante.
Vous possédez déjà un Grainfather? Bonne nouvelle! Vous pouvez acheter le NOUVEAU boîtier de commande Connect séparément pour améliorer votre ancien système!
- Électrique
Le Grainfather est alimenté électriquement et conçu pour être utilisé à l'intérieur. Un élément de 400 watts est utilisé à certaines étapes pour minimiser les risques de brûlure et lorsqu'une chaleur plus douce est requise. Un deuxième élément de 1 600 watts est utilisé pour accélérer rapidement la cuisson et bouillir après le mash et lorsqu'un chauffage plus vigoureux est requis. Le Grainfather alterne astucieusement entre les deux. Le chauffage du moût à l'ébullition ne prend que 20 minutes.
- Boîtier de contrôle pour le contrôle de la chaleur et de la puissance
Utilisez le boîtier de commande Connect avec l'application Connect (et le créateur de recettes à venir) pour une expérience brassicole ultime. Le boîtier de commande dispose d'une connexion Bluetooth avec votre appareil mobile pour pouvoir le contrôler à distance. Cela vous permet d'effectuer plusieurs tâches ou tout simplement de vous détendre pendant l'infusion, puis d'être averti du moment où vous souhaitez revenir à l'étape suivante.
Caractéristiques:
Mashing pas à pas programmable
Réchauffement différé - remplissez votre Grainfather avec de l'eau la nuit précédente et réveillez-vous avec votre eau à la parfaite température et prêt à brasser.
Changer facilement entre Celsius et Fahrenheit
Affichage graphique étanche
Utiliser en mode manuel ou avec application
- L'App Grainfather Connect pour l'automatisation
Caractéristiques:
Grainfather Grain Kit recettes fournies dans l'application
Possibilité d'importer des recettes (fichiers XML de bière)- REMARQUE: iOS9 et versions ultérieures
Définissez votre propre température d'ébullition (pour différentes altitudes)
Changer facilement entre Celsius et Fahreheit
Calculatrices Grainfather fournies dans l'application REMARQUE: une version temporaire de l'application Android est disponible)
-Pompe
Une pompe à entraînement magnétique de 6 Watt et 1 800 tr / min a été installée afin de faire recirculer le moût dans le lit de grain pour une efficacité de brassage maximale. Ceci est également utilisé pendant la phase de refroidissement pour pomper du moût chaud dans le refroidisseur de moût. La pompe rend également le processus de nettoyage rapide et facile en pompant le détergent de nettoyage à travers toute la tuyauterie. Un filtre de pompe est installé à l'intérieur du Grainfather afin d'empêcher le houblon et le grain errant de pénétrer dans la pompe ou la tuyauterie, en maintenant le moût bien dégagé tout en évitant les obstructions.
- Panier à grain
Un panier à grains extensible en acier inoxydable vous permet de brasser de 4,5 à 9 kg de grains. Les plaques perforées ajustées et la tuyauterie télescopique vous permettent d'ajuster facilement la taille du panier à grains à la taille du grain. Montez le Micro Pipework (vendu séparément) pour les factures de grain inférieures à 4,5 kg. Lorsque vous êtes prêt à purger, une poignée de levage du panier est ensuite insérée dans le panier à grain pour le sortir du moût. Un virage à 45 degrés permet ensuite aux pieds du panier à grains de reposer sur la bague de support spécialement conçue pour permettre au panier de grains de s'écouler pendant que vous pouvez effectuer un traitement par lots par-dessus. Un chauffe-eau Sparge peut être acheté en plus pour chauffer votre eau à la température requise.
- Refroidisseur de moût à contre-courant
Le refroidisseur de moût à contre-courant possède deux points de connexion. Un côté est connecté au Grainfather, tandis que l'autre est connecté à l'eau froide du robinet. Le moût chaud est ensuite pompé à travers le serpentin interne en cuivre, tandis que l'eau froide est pompée à travers l'extérieur dans la direction opposée, assurant un refroidissement et un échange de chaleur instantanés. Le moût refroidi peut ensuite être pompé directement dans votre fermenteur propre et stérile. Cela réduit les risques de contamination car rien n'est inséré dans le moût, et celui-ci ne traverse le refroidisseur de moût qu'une seule fois, allant directement au fermenteur stérile où la levure est ajoutée. 23 L de moût peuvent être refroidis en aussi peu que 20 minutes. La température du moût refroidi sera refroidie à environ 5 degrés au-dessus de la température de votre eau du robinet.