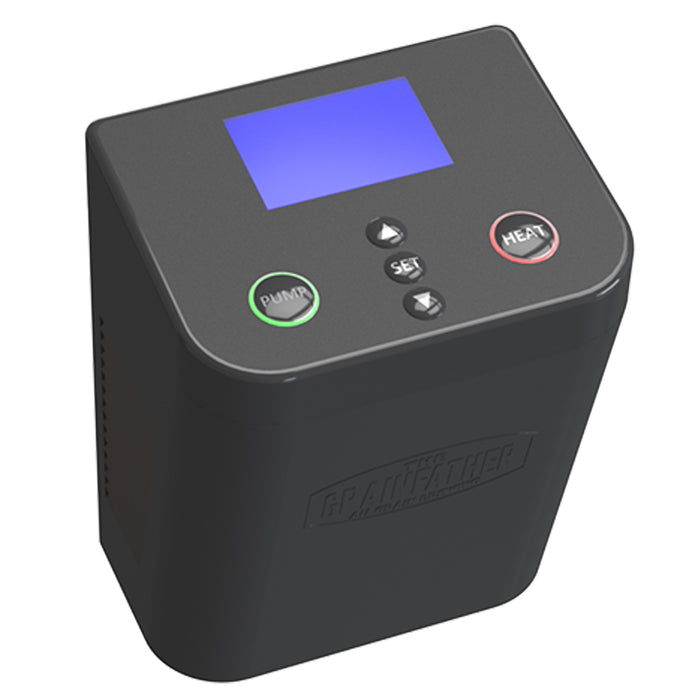 Grainfather - Control Box
by Grainfather
Automation without removing the fun of brewing, be as involved as you want to be! More automation means you can multitask or simply relax while brewing and then be alerted when to return for your next step.
Use the Connect Control Box in conjunction with the Connect App (and the recipe creator coming soon) for the ultimate brewing experience.
Control Box Features:
Bluetooth connection to your mobile device so it can be controlled remotely 
Programmable step mashing
Delayed heating - fill your Grainfather with water the night before and wake up to your water at strike temperature ready for brewing straight away
Change between celsius and fahrenheit easily
Waterproof graphic display
Lugs at rear which can be changed to suit any Grainfather currently on the market
Use in manual mode or with app
App Features:
Grainfather Grain Kit recipes provided in app
Import Beer XML files 
Set your own boil temperature (for different altitudes)
Change between celsius and fahrenheit easily
Grainfather calculators provided in app
NOTE: The Android app is currently in development, temporary version available, check Grainfather Facebook page for current update)
Grainfather - Boîte de contrôle

 
Automatisation sans supprimer le plaisir de brasser, soyez aussi impliqué que vous voulez être! Plus d'automatisation signifie que vous pouvez effectuer plusieurs tâches à la fois ou simplement vous détendre pendant l'infusion, puis être alerté du moment où vous devez revenir à l'étape suivante.
Utilisez la boîtier de contrôle avec l'application Connect (et le créateur de recettes à venir) pour une expérience ultime.
Caractéristiques de la boîte de contrôle:
Connexion Bluetooth à votre appareil mobile pour pouvoir le contrôler à distance 
Réchauffement retardé - remplissez votre Grainfather avec de l'eau la nuit précédente et réveillez-vous avec votre eau à température désiré, prêt à brasser immédiatement
Basculez facilement entre Celsius et Fahrenheit
Affichage graphique étanche
Écrou à l'arrière qui peuvent être modifiées pour convenir à tout Grainfather actuellement sur le marché
Utiliser en mode manuel ou avec application
Caractéristiques de l'application:
Grainfather Grain Kit recettes fournies dans l'application
Importer des fichiers XML de bière
Définissez votre propre température d'ébullition (pour différentes altitudes)
Basculez facilement entre Celsius et Fahrenheit
Calculatrices Grainfather fournies dans l'application
NOTE: L'application Android est en cours de développement, une version temporaire est disponible, consultez la page Facebook de Grainfather pour connaître la mise à jour actuelle.