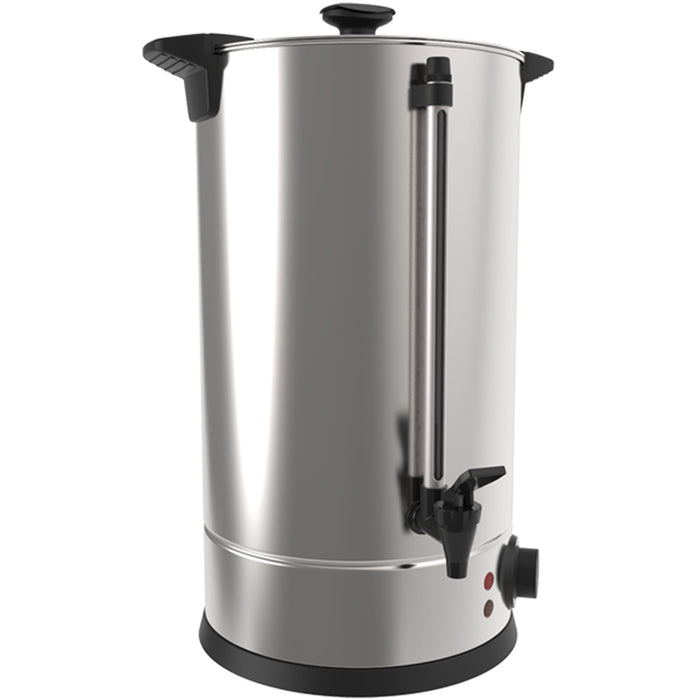 Grainfather - Sparge Water Heater
by Grainfather
The Sparge Water Heater is a temperature controlled urn that allows you to heat up to 18.2 Liters (4.8 US Gal) of water. This makes the process easier, start heating your sparge water when you begin the mash to ensure it is ready for when you need to sparge. Once water is at required temperature, it will hold that temperature until changed or turned off.
The Sparge Water Heater features:
18.2 Liters (4.8 US Gal) Capacity
Stainless Steel Body
1500 w Element, 110-120V ~ 60Hz
Sight Glass (with graduations visible)
Tap
Temperature Control
Heating Lights (to indicate input temperature has been reached or is still being heated)
NOTE: Graduations on the scale are measured from the tap. Pour from tap until flow stops. Do not tip the vessel
Grainfather - Sparge Water Heater
Le Sparge est une urne à température contrôlée qui vous permet de chauffer jusqu'à 18,2 litres d'eau. Cela facilite le processus: commencez à chauffer votre eau de rinçage lorsque vous commencez le moût pour vous assurer qu'il est prêt pour le moment où vous avez besoin de brasser. Une fois que l'eau est à la température requise, elle sera maintenue jusqu'à ce qu'elle soit changée ou éteinte.
Le Sparge comprend: Capacité de 18,2 litres (4.8 US Gal)
Corps en acier inoxydable
Élément 1500 W, 110-120V ~ 60Hz Voyant
Robinet
Contrôle de la température
Voyants de chauffage (pour indiquer que la température d'entrée a été atteinte ou est toujours en cours de chauffage)
REMARQUE: les graduations sur l'échelle sont mesurées à partir du robinet. Verser du robinet jusqu'à ce que le débit cesse. Ne pas renverser le vaisseau