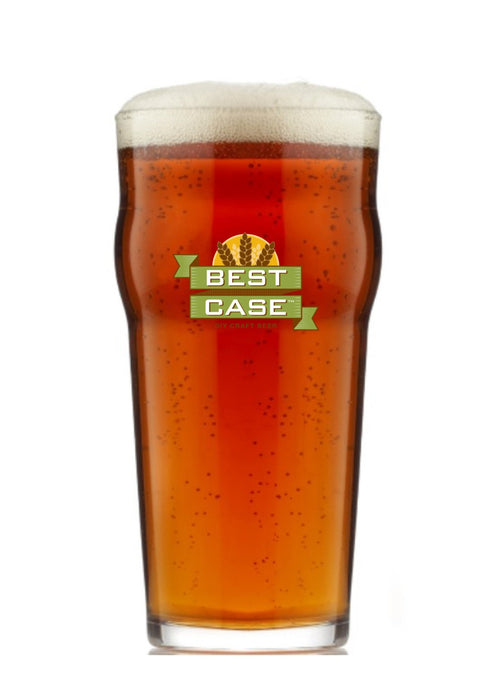 Best Case 1820 IPA
by Best Case Beer
A traditional British IPA. Rich malty, full of hops, a higher alcohol content and very full flavour. Traditionally brewed to survive the rigors of a long sea voyage from Britain to India during the Raj, this strong ale is a great representation of original India Pale Ales. Very different from the more modern citrusy and drier "West Coast", North American IPA's.
O.G. 1.062-64 | F.G. 1.013-15 | ABV 6.5% | IBU 30
(Values are approximate) 
Makes 23 Litres !
Best Case is a complete beer recipe, containing malt extract, crushed grains, steeping bag, hops, yeast and priming sugar. With easy to follow instructions, it has never been easier to brew your own delicious craft beer. All you need is a pot and regular beer fermenting equipment.
Become your own Brew Master and taste the difference that fresh ingredients make.
*Estimated alcohol contents for Best Case beer assume you are adding the priming sugar at bottling (which contributes approximately 0.3% alc./vol.)
Best Case 1820 IPA
Une IPA britannique traditionnelle. Malteux riche, plein de houblon, une teneur en alcool plus élevée et une saveur très ample. Traditionnellement brassée pour survivre aux rigueurs d'un long voyage en mer de la Grande-Bretagne à l'Inde pendant le Raj, cette bière forte est une excellente représentation du India Pale Ales original. Très différent de la «West Coast» et des agrumes plus modernes, plus citronnés et plus secs.
O.G. 1,062-64 | F.G. 1,013-15 | ABV 6,5% | d'IBU 30
(Les valeurs sont approximatives)
Donne 23 litres!
Best Case est une recette de bière complète contenant de l'extrait de malt, des grains broyés, un sac de trempage, du houblon, de la levure et du sucre d'amorçage. Avec des instructions faciles à suivre, il n'a jamais été aussi facile de brasser votre propre bière artisanale. Tout ce dont vous avez besoin est une marmite et du matériel de fermentation.
Devenez votre propre Brew Master et goûtez à la différence des ingrédients frais.
* La teneur estimée en alcool de la bière Best Case si vous ajoutez le sucre d'amorçage à la mise en bouteille (ce qui représente environ 0,3% alc./vol.).