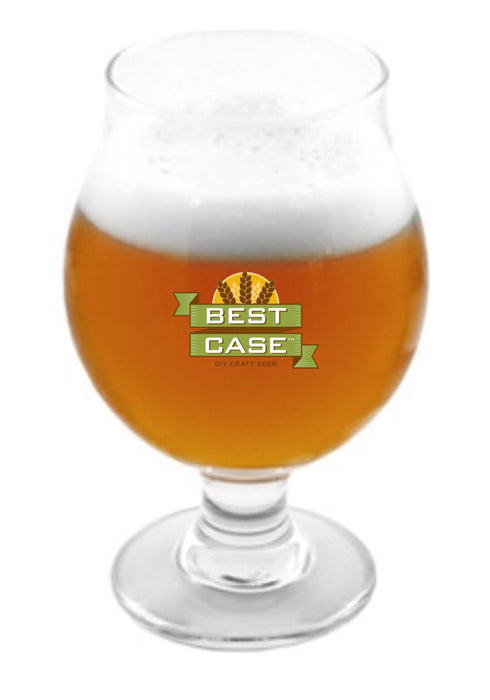 Best Case Belgian Farmhouse Saison
by Best Case Beer
Traditionally brewed at the beginning of spring as the cold months come to an end; Saison is a delicate blend of fruit, citrus and spice flavors. Sometimes this beer is also referred to as a "Farmhouse Ale" due to its Belgian roots of quenching the thirst of hard working farmers. Our version has a good amount of rye to add to the natural spiciness of this unique session beer.
O.G. 1.052-54 | F.G. 1.005-07 | ABV 6.2% | IBU 8
(Values are approximate) 
Makes 23 Litres!
Best Case is a complete beer recipe, containing malt extract, crushed grains, steeping bag, hops, yeast and priming sugar. With easy to follow instructions, it has never been easier to brew your own delicious craft beer. All you need is a pot and regular beer fermenting equipment.
Become your own Brew Master and taste the difference that fresh ingredients make.
*Estimated alcohol contents for Best Case beer assume you are adding the priming sugar at bottling (which contributes approximately 0.3% alc./vol.)
Best Case Belgian Farmhouse Saison
Une bière chaude avec des notes d'agrumes acidulées et du seigle qui donne un caractère épicé unique à cette interprétation d'un classique belge.
Brassée traditionnellement au début du printemps; Saison est un mélange délicat de fruits, d'agrumes et d'épices. Parfois, cette bière est aussi appelée «bière de la ferme» en raison de ses racines belges qui étanchent la soif des fermiers. 
O.G. 1.052-54 | F.G. 1.005-07 | ABV 6.2% | IBU 8
(Les valeurs sont approximatives)
Donne 23 litres!
 Best Case est une recette de bière complète contenant de l'extrait de malt, des grains broyés, un sac de trempage, du houblon, de la levure et du sucre d'amorçage. Avec des instructions faciles à suivre, il n'a jamais été aussi facile de brasser votre propre bière artisanale. Tout ce dont vous avez besoin est une marmite et du matériel de fermentation.
 * La teneur estimée en alcool de la bière Best Case suppose que vous ajoutez le sucre d'amorçage à la mise en bouteille (ce qui représente environ 0,3% alc./vol.).