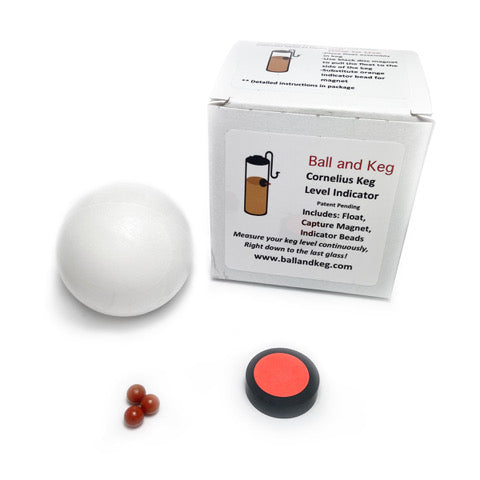 Ball & Keg - Keg Level Indicator
by Best Case Wholesale
Would you like to constantly monitor the liquid level in your homebrew keg? Have you ever had your "Corny Keg" go empty unexpectedly? Have you ever lifted or tilted your keg to determine how much liquid was left, only to stir up the sediment and ruin those last few glasses? Stop guessing and start monitoring your keg level continuously!               
The Ball and Keg Liquid Level Indicator is a revolutionary product that can be used to immediately eliminate the guesswork on any Cornelius style homebrew keg. The Ball and Keg is the first and only device that is designed to accurately and instantly provide continuous liquid level for your keg. It is simple to use, economical, and completely accurate.
The float is 2" in diameter.

The indicator bead is 1/4" in diameter and bright orange.

The float is made of FDA approved plastic.

This is the same plastic used for many types of food and beverage containers.

The float can be installed before carbonation and is designed for pressure up to 50 psi.
Ball & Keg - Indicateur de niveau de fût
Souhaitez-vous surveiller en permanence le niveau de liquide dans votre fût? Avez-vous déjà vu votre fût se vider de manière inattendue ? Avez-vous déjà soulevé ou incliné votre fût pour déterminer la quantité de liquide qui restait, seulement pour remuer les sédiments et ruiner ces derniers verres ? Arrêtez de deviner et commencez à surveiller le niveau de votre fût correctement!
L'indicateur de niveau de liquide Ball and Keg est un produit révolutionnaire qui peut être utilisé pour éliminer immédiatement les conjectures sur n'importe quel fût de style Cornelius. Le Ball and Keg est le premier et le seul appareil conçu pour fournir avec précision et instantanément un niveau de liquide continu pour votre fût. Il est simple à utiliser, économique et parfaitement précis.
Le flotteur mesure 2" de diamètre.
La perle indicatrice mesure 1/4" de diamètre et est orange vif.
Le flotteur est en plastique approuvé par la FDA.
Il s'agit du même plastique utilisé pour de nombreux types de contenants pour aliments
Le flotteur peut être installé avant la carbonatation et est conçu pour une pression allant jusqu'à 50 lb/po2.