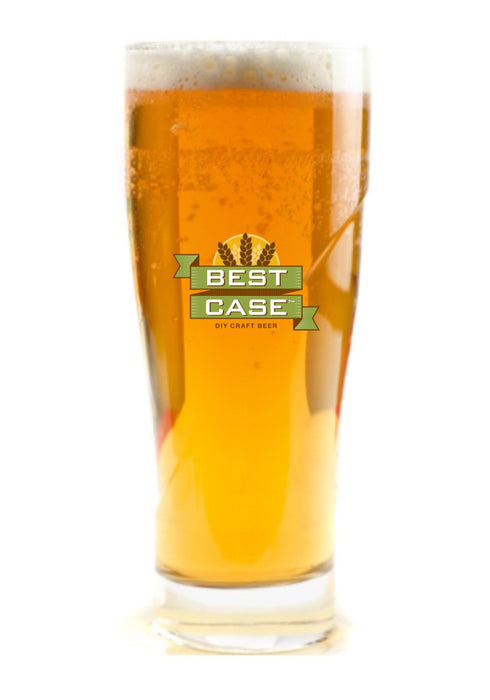 Best Case Cascade West Coast Pale Ale All Grain
by Best Case Beer
Designed for use with the Grainfather and traditional all-grain brewing systems.
Best Case All-Grain kits are tried and true recipes developed over many years.
 Our West Coast Pale Ale contains Canadian 2-row and specialty malts (crushed), 100% Cascade hops, and yeast - Ready to mash in and make delicious beer ever time! Temperature and time guidelines are also included.
West Coast Pale Ale is different enough from its British cousin to have gained its own designation as a "classic style". Golden in colour, This crisp, clean beer has a floral aroma from the distinctly North American Cascade hops. Unlike British pale ales, strong fermentation characteristics (esters) are not a hallmark of this style.
O.G. 1.048-52 | F.G. 1.010-14 | ABV 5% | IBU 30
(OG Based On 75% Brewhouse Efficiency)
Makes 23 Litres!


*Estimated alcohol contents for Best Case beer assume you are adding the priming sugar at bottling (which contributes approximately 0.3% alc./vol.)
Best Case Cascade West Coast Pale Ale All Grain
Conçu pour être utilisé avec le Grainfather et les systèmes de brassage traditionnels à base de grains.
Les trousses Best Case Tout Grains sont des recettes éprouvées et élaborées au fil de nombreuses années.
Vif, propre et bien équilibré avec beaucoup de houblon!
La West Coast Pale Ale est suffisamment différente de sa cousine britannique pour avoir obtenu sa propre désignation de «style classique». De couleur dorée, cette bière fraîche et propre dégage un arôme floral issu du houblon Cascade nord-américain. Contrairement aux ales britanniques, les caractéristiques de fermentation forte (esters) ne caractérisent pas ce style. Servir froid, 36-45 ° F.
O.G. 1.048-52 | F.G. 1.010-14 | ABV 5% | IBU 30
(Les valeurs sont approximatives)
Donne 23 litres!
* La teneur estimée en alcool de la bière Best Case suppose que vous ajoutez le sucre d'amorçage à la mise en bouteille (ce qui représente environ 0,3% alc./vol.)