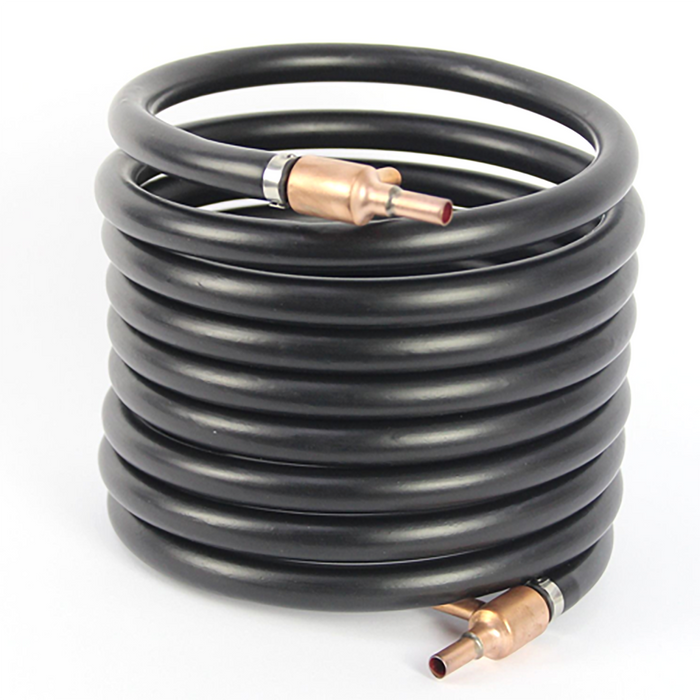 Chiller - Counter Flow
by Best Case Wholesale
These copper counterflow chillers are probably one of the fastest ways to chill wort. They are similarly efficient as the 30 plate chillers however they are easier to clean as they do not have all the small crevasses to trap hop material and other solids.
These units are 9" in diameter and about 7" high. The input and output are approximately 3/8" outside diameter. These can be used with gravity but are recommended to use with a pump.
Refroidisseur - Contre-courant
Ces refroidisseurs à contre-courant en cuivre sont probablement l'un des moyens les plus rapides de refroidir le moût. Ils sont tout aussi efficaces que les 30 refroidisseurs à plaques, mais ils sont plus faciles à nettoyer car ils ne disposent pas de toutes les petites crevasses pour piéger les matériaux de houblon et autres solides.
Ces unités ont un diamètre de 9 "et une hauteur d'environ 7". L'entrée et la sortie ont un diamètre extérieur d'environ 3/8 ". Elles peuvent être utilisées avec la gravité mais sont recommandées avec une pompe.