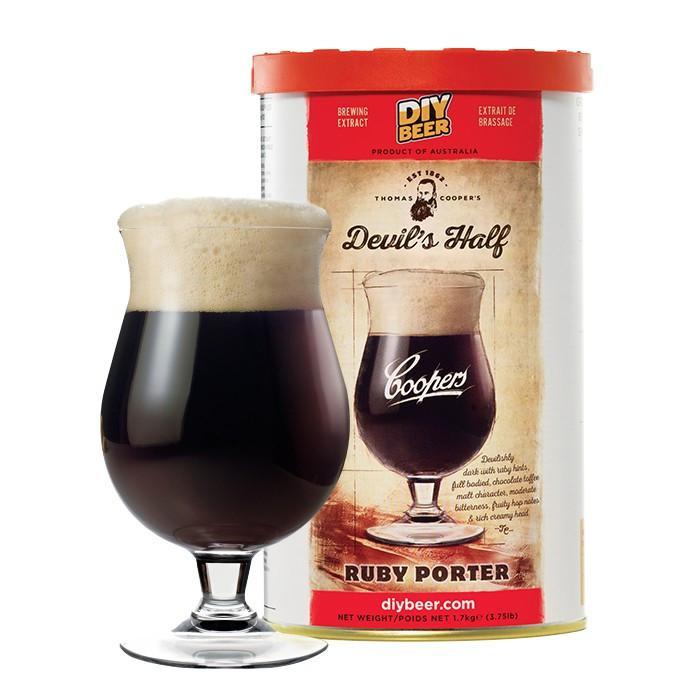 Coopers - Devil Half Ruby Porter
by Coopers
In 1862, Coopers brewery operations were located close to an area known as the Devil's Half Acre. This rather intimidating name stemmed from the somewhat menacing people that frequented the neighbourhood. As such, it had a reputation for being a place to steer clear of at night.
This devilish brew is inspired by the shady characters of the Devil's Half Acre. As black as the sinister night, this full bodied Porter has ruby hints, delicious chocolate toffee malt character, moderate bitterness with fruity hop notes and a rich creamy head. It's sure to bring out your dark side.
Requires an additional 1kg (2.2lbs) corn sugar or 1.36kg (3Lbs) malt extract.
Coopers - Devil Half Ruby Porter
Cette infusion diabolique s'inspire des personnages loufoques de Devil's Half Acre. Aussi noir que la nuit sinistre, ce Porter corsé a des notes de rubis, un délicieux caractère de malt au chocolat, une amertume modérée avec des notes de houblon fruité et une tête crémeuse et riche. C'est sûr de faire ressortir votre côté obscur.
Requis 1 kg (2,2 lb) de sucre de maïs ou 1,36 kg (3 lb) d'extrait de malt supplémentaire.