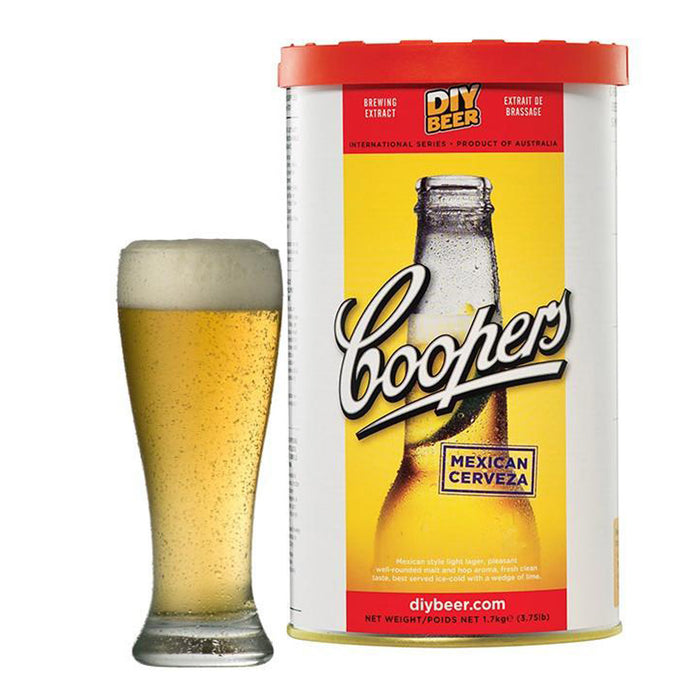 Coopers - Mexican Cerveza
by Coopers
Mexico is known for its arid lands, dusty conditions and oppressive heat. So it's not surprising that the people of Mexico are expert at quenching a thirst.
Coopers Mexican Cerveza emulates the style of the finest quality beers exported from Mexico. This premium beer is light in style with a fresh clean taste, ideally served ice-cold with a wedge of lime or lemon.
Requires an additional 1kg (2.2lbs) corn sugar or 1.36kg (3Lbs) malt extract.
Coopers - Mexican Cerveza
Le Mexique est connu pour ses terres arides, ses conditions poussiéreuses et sa chaleur accablante. Il n'est donc pas surprenant que les Mexicains soient des experts pour étancher leur soif.
Les Coopers Mexican Cerveza imitent le style des bières de première qualité exportées du Mexique. Cette bière de qualité est légère avec un goût frais et propre, idéalement servie glacée avec un morceau de lime.
Requis 1 kg (2,2 lb) de sucre de maïs ou 1,36 kg (3 lb) d'extrait de malt supplémentaire.