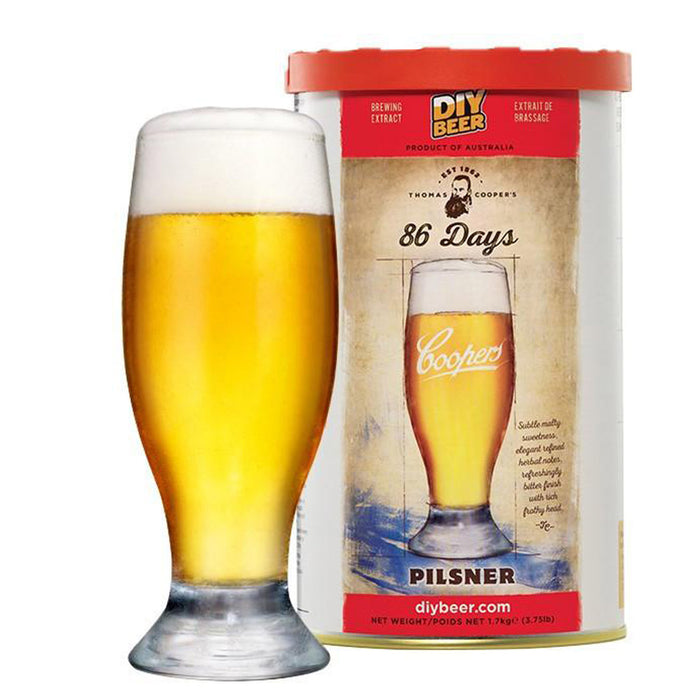 Coopers - Pilsner
by Coopers
A pale straw coloured beer with a bold, spicy Saaz hop aroma. Crisp and dry with cleansing bitterness.
Thomas Coopers Pilsner is made from premium 2 - row pale malt and barley, bittering hops and a generous amount of aromatic Saaz hops. Fermentation with the true lager yeast, supplied, at temperatures below 20c will produce an excellent example of the pilsener style. 
Requires an additional 1kg (2.2lbs) corn sugar or 1.36kg (3Lbs) malt extract.
Coopers - Pilsner
Une bière de couleur paille pâle avec un arôme audacieux et épicé de Saaz hop. Croustillant et sec avec une amertume purifiante.
Coopers Pilsner est fabriqué à partir de malt pâle et d'orge de qualité supérieure à 2 rangs, de houblon amer et d'une généreuse quantité de houblon Saaz aromatique. La fermentation avec la vraie levure de bière blonde, fournie à des températures inférieures à 20 ° C, produira un excellent exemple du style pilsener.
Requis 1 kg (2,2 lb) de sucre de maïs ou 1,36 kg (3 lb) d'extrait de malt supplémentaire.