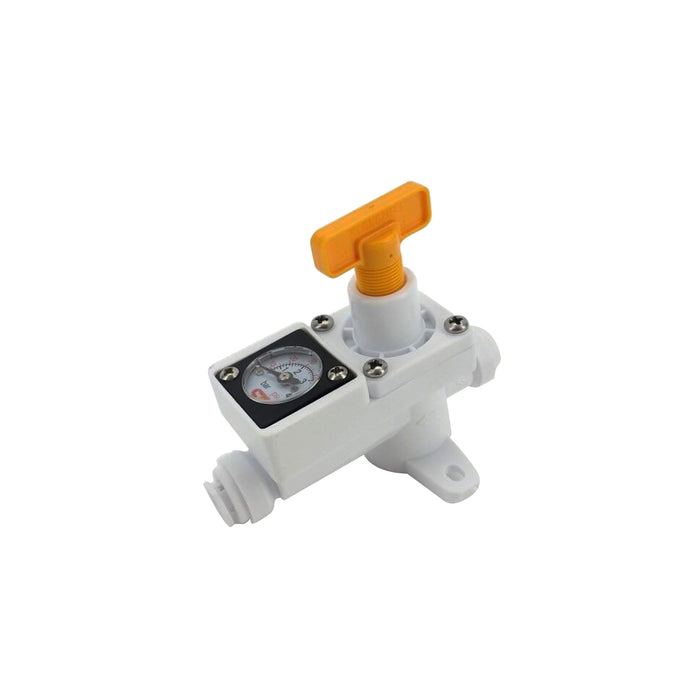 Duotight Inline Regulator
by Best Case Wholesale
These compact inline regulators have been designed to suit 8mm (5/16") Evabarrier Tubing.  For higher pressures such as mains water supply we recommend the 5mm ID if you do not need as high pressures and you would prefer higher flow rate.
Suits pressures 0-150psi however this unit is packed with the 0-60psi gauge as standard.
Suitable for liquid or gas
Made from Acetal/POM, EPDM o-rings and stainless teeth
Suits 8mm (5/16) OD Tubing such as Evabarrier Tubing
Includes integrated 0-60psi Pressure Gauge
Régulateur en ligne Duotight
Ces régulateurs en ligne compacts ont été conçus pour s'adapter aux tubes Evabarrier de 8 mm (5/16 "). Pour des pressions plus élevées telles que l'alimentation en eau du réseau, nous recommandons le diamètre interne de 5 mm si vous n'avez pas besoin de pressions aussi élevées et que vous préférez un débit plus élevé.
Convient à des pressions de 0 à 150 psi, mais cet appareil est livré avec le manomètre 0 à 60 psi en standard.
Convient pour liquide ou gaz

Fabriqué à partir d'acétal / POM, de joints toriques en EPDM et de dents en acier inoxydable

Convient aux tubes de diamètre extérieur 8 mm (5/16) tels que les tubes Evabarrier

Comprend un manomètre intégré 0-60psi