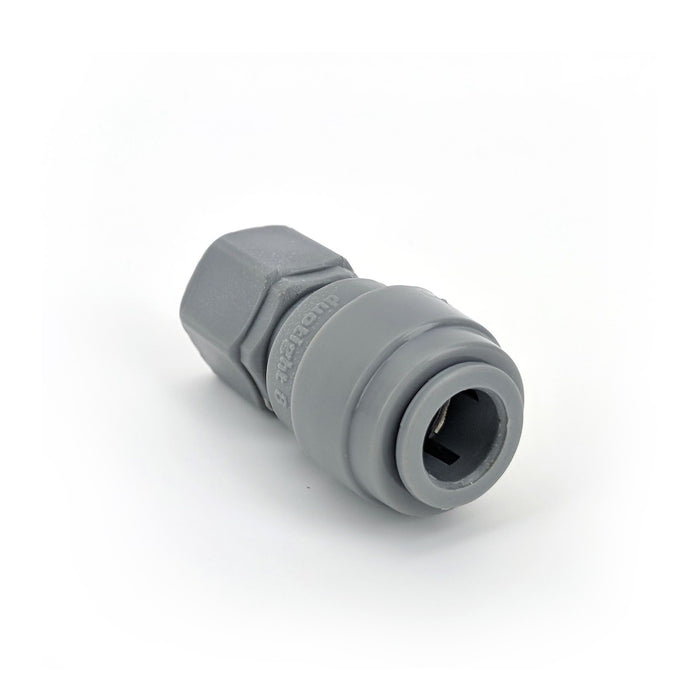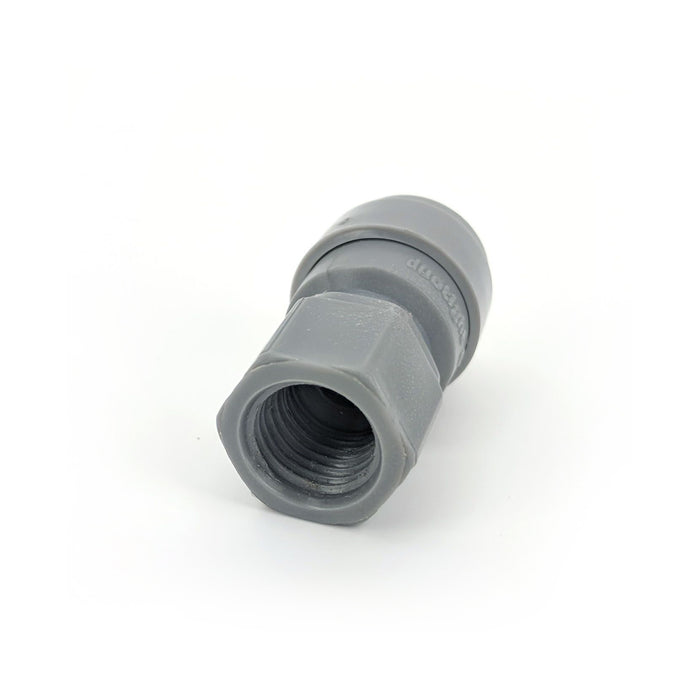 Duotight - 5/16 Female to FFL Female Thread
by Best Case Wholesale
This straight joiner is suitable for EVABarrier Beer & Gas hosing in 4mm ID & 5mm ID line or most lines with  8mm outer diameter.

The threads on this fitting will suit:

MFL Ball Lock and Pin Lock Disconnects
Kegland MKIII and MK4 Regulators
Many other home brew fittings with MFL Thread
No clamps necessary!
We do recommend cutting your hosing straight, not on an angle, to ensure the line has a complete seal. To remove the fitting simply push in the collet and the hose can be removed. These push in fittings are suitable to be used up to 100 psi.
These push in fittings have been engineered for maximised performance in both gas and liquid applications. Compared to other push in fittings on the market, duotight takes the double safety approach to all of the connections with two EPDM o-rings per hose port. No other push ins on the market have EPDM o-rings, let alone two! per push in connection.
Duotight - Filetage femelle 5/16 vers FFL femelle
Ce menuisier droit convient aux tuyaux EVABarrier pour la bière et le gaz dans une ligne de 4 mm ID et 5 mm ID ou la plupart des lignes avec un diamètre extérieur de 8 mm.
Les fils de ce raccord conviendront:
MFL Ball Lock et Pin Lock se déconnectent

Régulateurs Kegland MKIII et MK4

De nombreux autres raccords de brassage à domicile avec filetage MFL

Aucune pince nécessaire!
Nous vous recommandons de couper votre tuyau droit, pas en angle, pour vous assurer que la ligne a une étanchéité complète. Pour retirer le raccord, poussez simplement le collet et le tuyau peut être retiré. Ces raccords instantanés peuvent être utilisés jusqu'à 100 psi.
Ces raccords instantanés ont été conçus pour des performances maximales dans les applications gaz et liquides. Par rapport aux autres raccords instantanés du marché, le Duotight adopte la double approche de sécurité pour toutes les connexions avec deux joints toriques EPDM par port de tuyau. Aucun autre push ins sur le marché n'a de joints toriques en EPDM, encore moins deux!