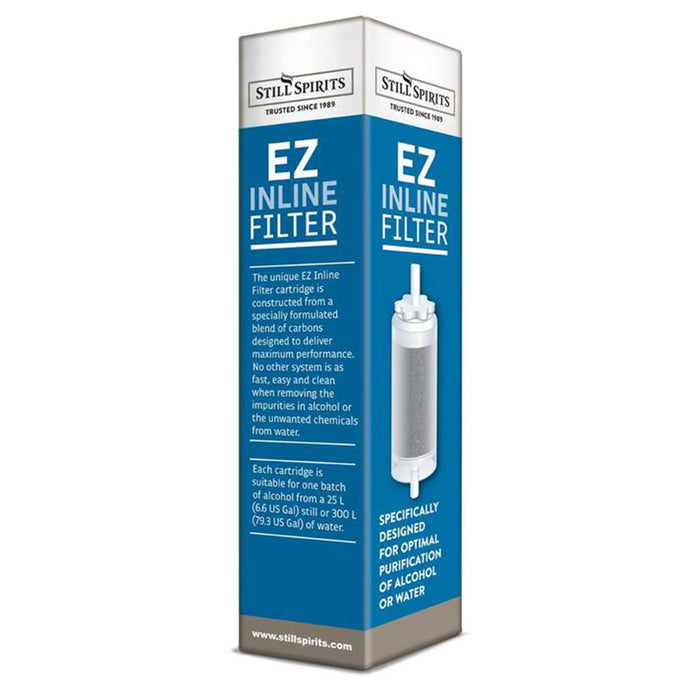 EZ Filter - Inline
by Still Spirits
Have a spare fermentation bucket? Convert it into a carbon filter unit!
Fast, clean, easy to use. Simply attach in place of your Z Filter cartridge to convert your filtering process to the EZ Filter system. Specifically designed for the maximum purification of alcohol or water. The unique EZ Filter Cartridge is constructed from a specially formulated blend of carbons designed to deliver maximum performance. This blend of carbons has been selected with pore sizes ideal for removing impurities in distilled spirit or unwanted chemicals from water and is fast, clean and easy to use. Each cartridge is suitable for one batch of alcohol, or 300L of water.
Filtre EZ - Inline
Vous avez un seau de fermentation? Convertissez-le en une unité de filtre à charbon!
Rapide, propre, facile à utiliser. Connectez simplement la cartouche de votre Z filter pour convertir votre processus de filtrage en système EZ Filter. Spécialement conçu pour la purification maximale d'alcool ou d'eau. La cartouche Ez filter unique est construite à partir d'un mélange de carbones spécialement conçu pour offrir des performances maximales. Ce mélange de carbones a été sélectionné avec des tailles de pores idéales pour éliminer les impuretés de l'eau distillée ou les produits chimiques indésirables de l'eau. Il est rapide, propre et facile à utiliser. Chaque cartouche convient à un lot d'alcool ou à 300 L d'eau.