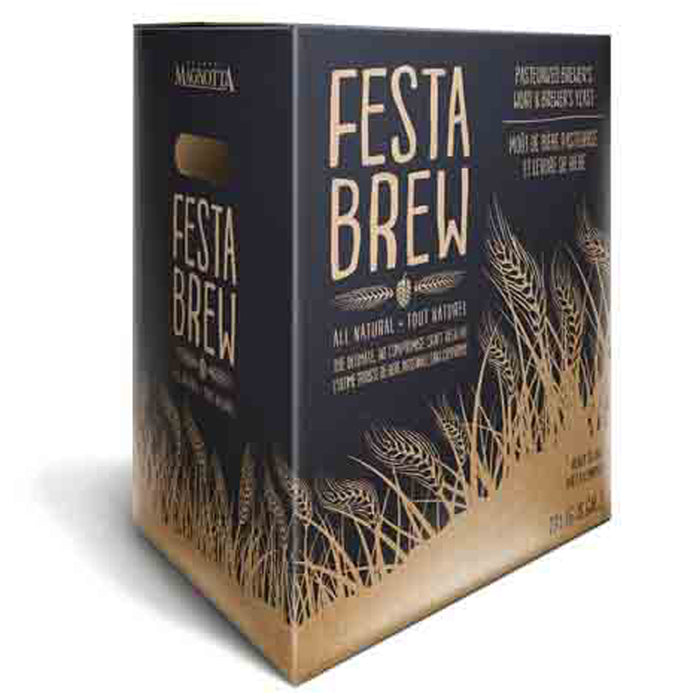 Festa Brew - Seasonal Cerveza
by Festa Brew
A very light coloured lager with a crisp mouth feel. A highly refreshing and clean tasting summer beer. Ready to drink in 3-4 weeks. Serve with a wedge of lime.
Starting Gravity        1.042
Finishing Gravity      1.009
Alcohol by volume    4.3%
Bitterness (IBU's)     11.8
Makes 23 litres (roughly 5 1/2 dozen). Quantities may be limited. As you know, Festa Brew commercial quality beer is super easy to make. Just pour and ferment! No water to add.
Festa Brew - Seasonal Cerveza
Une lager de couleur très claire avec une sensation de bouche croquante. Une bière d'été très rafraîchissante et au goût propre. Prêt à boire dans 3-4 semaines. Servir avec un morceau de lime.
Gravité de départ 1.040
Gravité de finition 1.006
Alcool en volume 5%
Amertume (IBU) 9
Donne 23 litres (environ 5 1/2 douzaine). Les quantités peuvent être limitées. Comme vous le savez, la bière de qualité commerciale Festa Brew est extrêmement facile à préparer. Juste verser et fermenter! Pas d'eau à ajouter.