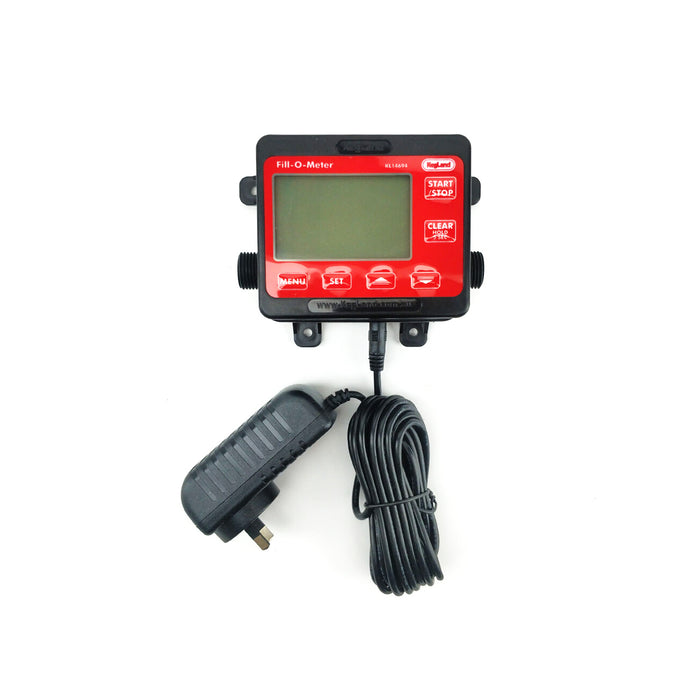 A must have bit of kit for any homebrewer. Don't waste time next to the hose, punch in what you need and concern yourself with other parts of the brew day.

The perfect present for any homebrewer of any skill level, we all need water to brew.

Displays real time flow rate and volume (Litres/Min or Gallons/Min)

Mains power supply included (never change a battery again)

Accurately measures and controls volumes at flow rates from 1-30L/Min

Never overfill or spillover again

Splash resistant housing

Great for filling pools, tanks, brewery hardware, distilling gear, mixing liquid and many other applications not mentioned

Integrated flow meter and solenoid valve

Illuminated display for usage in the evening

Integrated sound alarm

Easy 1/2" BSP Inlet and Outlet

Measure the amount of water used in the garden
WARNING: DO NOT over-tighten the inlet and outlet. 
Fill-O-Meter
Le produit parfait pour tout brasseur amateur de tout niveau de compétence!
Affiche le débit et le volume en temps réel (litres / min ou gallons / min)

Alimentation secteur incluse (ne changez plus jamais une pile)

Mesure et contrôle avec précision les volumes à des débits de 1 à 30 L / min

Ne jamais trop remplir ni déborder

Boîtier résistant aux éclaboussures

Idéal pour le remplissage de piscines, de réservoirs, de matériel de brasserie, de matériel de distillation, de mélange de liquide et de nombreuses autres applications non mentionnées

Débitmètre et électrovanne intégrés

Écran éclairé pour une utilisation en soirée

Alarme sonore intégrée

Entrée et sortie faciles 1/2 "BSP

Mesurer la quantité d'eau utilisée dans le jardin
AVERTISSEMENT: NE serrez PAS excessivement l'entrée et la sortie.