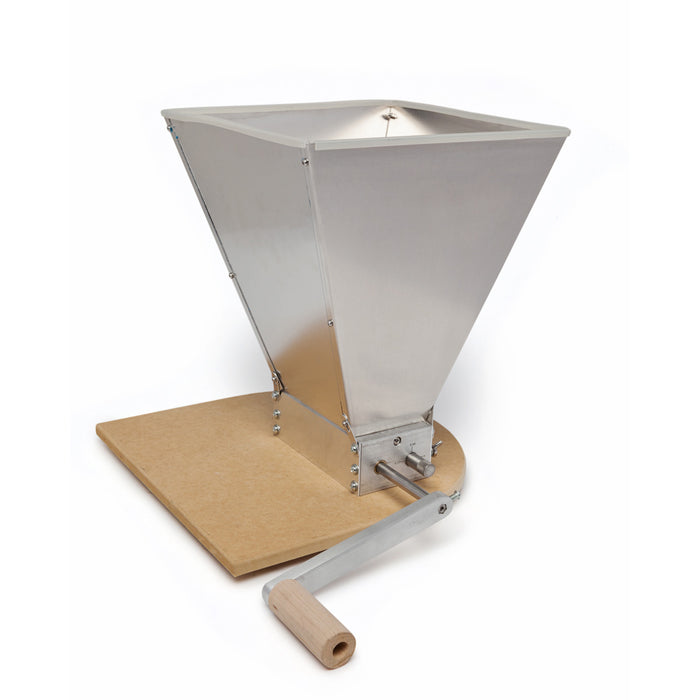 Grain Mill (10 lbs Hopper)
by The Vintage Shop
This Mill is a great tool for efficiently grinding malted and non-malted barleys, and grains.
It has an easily adjustable gap setting so you can grind grains and other materials to perfection.
It comes with a longer shaft so you won't hit the pail while grinding with the hand crank. The roller are made of Stainless Steel.
The Standard Hopper holds 10 lbs.
It has a solid base and can be easily attached to a drill with no extra parts.
When using a drill at 500 RPM you can crush up to 6 pounds per minute.
It is also easily adjusted to different size buckets.
Moulin à grains (10 lb)
Il dispose d'un réglage de jeu facilement ajustable pour vous permettre de moudre des grains à la perfection.
Il vient avec un manche plus long, vous ne frapperez donc pas le seau lors du broyage à la manivelle. Les rouleaux sont en acier inoxydable.
La trémie standard supporte 10 lb
Il a une base solide et peut être facilement attaché à une perceuse sans pièces supplémentaires.
Lorsque vous utilisez une perceuse à 500 tr / min, vous pouvez écraser jusqu'à 6 livres par minute.
Il est également facilement ajustable à différentes tailles de seaux.