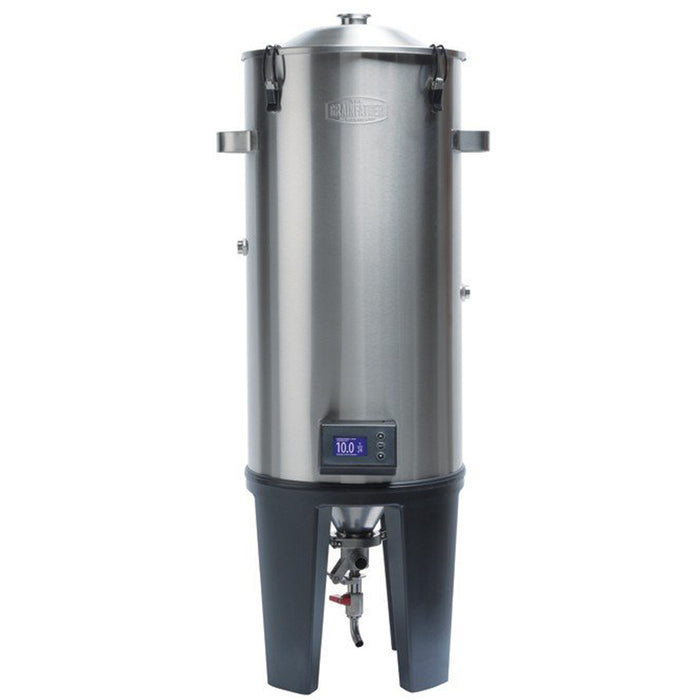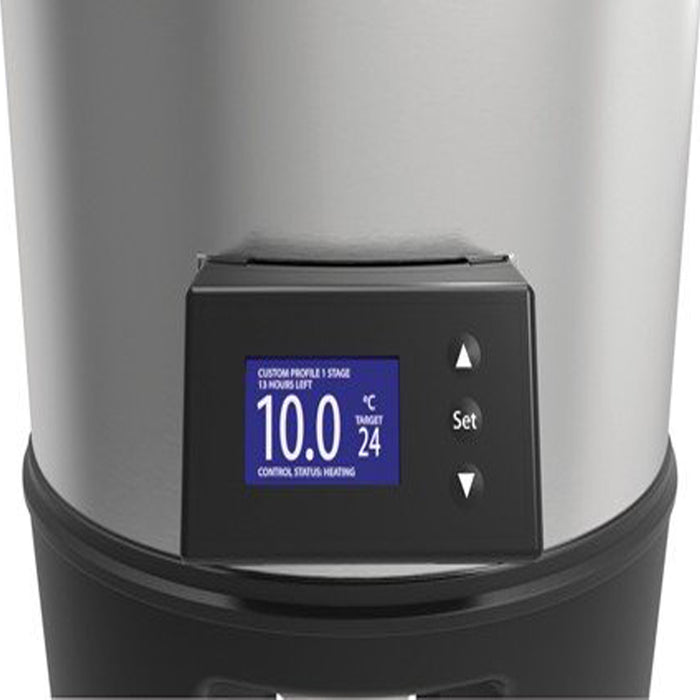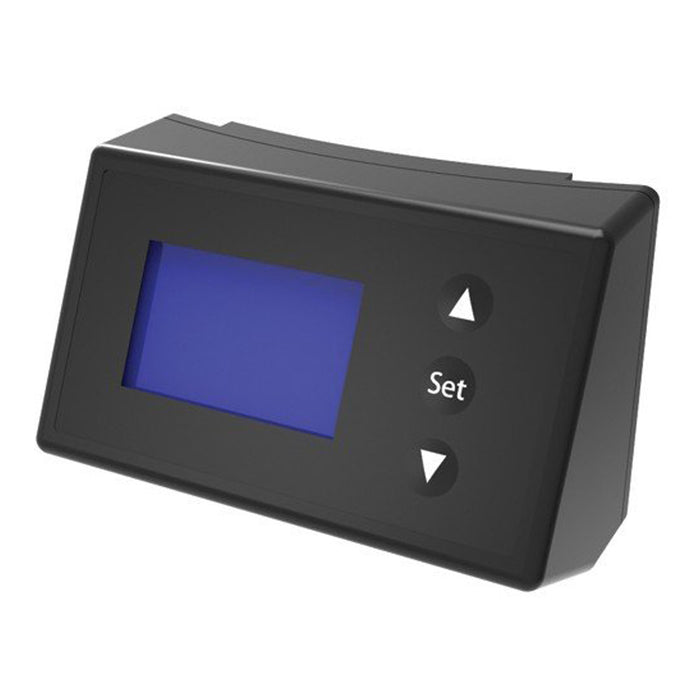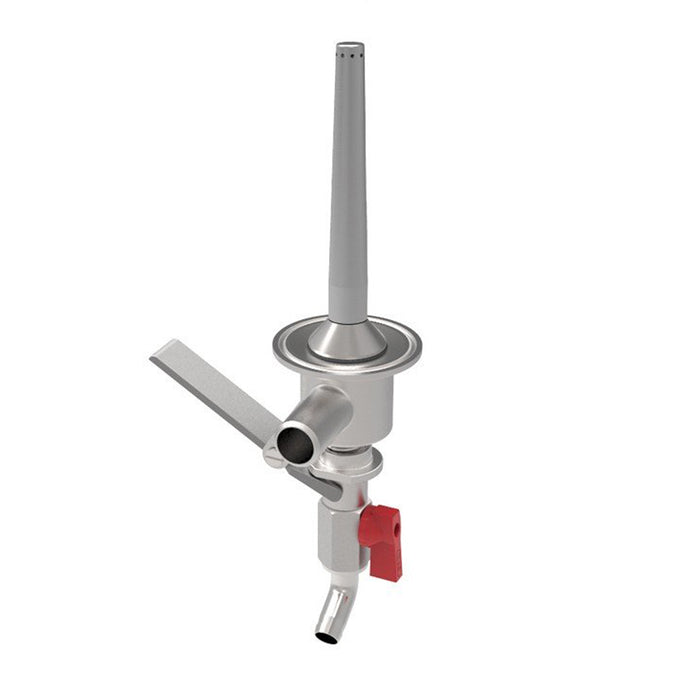 Grainfather Conical Pro - Fermenter Bundle
by Grainfather
Click here to view complete instructions for use.
This bundle includes the Grainfather conical fermenter, dual valve, and wireless digital temperature controller. 
Included:
Conical Fermenter 
Fermenter Lid 
Rubber Bung 
Bubbler Airlock 
Cone Plug 
Cone Plug Seal 
5 cm (2") Tri Clamp
Digital Temperature Display (does not control temperature, Temperature Controller available seperately) 
Power Adapter and Wall Plug
Bottom patented dual valve
Wireless digital temperature controller 
Ferment like never before! The Grainfather Conical Fermenter gives the brewer professional fermentation control, just like the commercial breweries. Fermentation is arguably the most important part of producing a good quality beer. A good fermentation environment starts with a clean and sterile fermenter, has a consistent controlled temperature base and exposure to oxygen is minimised. 
The Grainfather Conical Fermenter provides you with a modular system for all of this and more!
The basic unit provides a professional quality fermentation environment for any beer style and a range of add ons are also available to further enhance the fermenter, depending on your stage of brewing and your budget allows.
FEATURES:
Double Walled: A stainless steel double walled skin is filled with a thick layer of polyurethane foam for insulation. This is what keeps the wort at a constant stable temperature with minimal influence from any external environmental temperature changes, providing insulation for your fermentation that a standard jacket cannot achieve. 
Integrated Gentle Heating: In the cavity of the fermenter between the outer body and cone sits a 30 Watt, 12 V heating element. Unlike standard heating elements/sources that directly heat the liquid, this heat source is designed to heat the environment in between the walls of the fermenter, which in turn heats the liquid. It is similar to controlling the temperature in a temperature controlled room. The fermenter acts as an artificial environment which can be heated, meaning the temperature is raised in an even and controlled manner which is much better for the yeast.
Integrated Cooling Sleeve: In between the two stainless steel walls sits a cooling sleeve (also made of stainless steel). This cooling sleeve is welded onto the inner wall of the fermenter and can be hooked up to the additionally purchased Glycol Chiller. Temperature is dialed into the Temperature Controller and as the cooling liquid travels through this sleeve, it cools the stainless steel which in turn evenly cools the beer in the fermenter. The cooling sleeve never comes into contact with the beer, it is completely concealed, built into the fermenter and never needs cleaning or sanitising - a true innovation for a fermenter of this scale. 
Easy Access to the Interior for Hassle Free Cleaning: The Grainfather Conical Fermenter has a smooth interior with no additions such as cooling coils or additional sampling valves meaning it is easy to clean and minimises the risk of infection.
Golden Angle Conical: The conical shape of the fermenter is typical for professional breweries. Our conical has been designed with the 'Golden Angle' of 60º. This is the optimum angle for yeast and sediment to drop down to the bottom of the cone without getting stuck to the sides, allowing you to transfer from above the sediment line, resulting in clearer beer. The conical shape also allows for better mixing during fermentation due to the path of convention currents that it enables to occur.
Support: The Grainfather Conical Fermenter is fully supported around the world by a fantastic support team who love brewing just as much as you do. Our support team is here for any technical enquiries on brewing or how the Conical Fermenter works, as well as general customer service enquiries. All Grainfather Conical Fermenters come with a 36 month warranty.
Grainfather Conical - Fermenteur
Inclus:
Fermenteur Conique
Couvercle
Bouchon en caoutchouc
Barboteur
Prise conique
Joint conique
Joint de serrage de 5 cm
Affichage numérique de la température (ne contrôle pas la température, contrôleur de température disponible séparément)
Adaptateur et prise murale

Double valve brevetée

Régulateur de température numérique sans fil

Fermentez comme jamais auparavant! Le fermenteur conique Grainfather donne au brasseur un contrôle de fermentation professionnel, tout comme les brasseries commerciales. La fermentation est sans doute la partie la plus importante de la production d'une bière de bonne qualité. Un bon environnement de fermentation commence par un fermenteur propre et stérile, a une base de température contrôlée constante et une exposition à l'oxygène minimisée.
Le fermenteur conique Grainfather vous fournit un système modulaire pour tout cela et plus encore!
L'unité de base fournit un environnement de fermentation de qualité professionnelle pour tous les styles de bière et une gamme de compléments est également disponibles pour améliorer la fermentation en fonction de votre stade de brassage et de votre budget.
FONCTIONNALITÉS:
Double paroi: Acier inoxydable à double paroi remplie d'une épaisse couche de mousse de polyuréthane isolante. Cela maintient le moût à une température stable et constante, et minimise les changements de température extérieure. Cela vous permet de realiser des fermentations impossibles autrement.
Chauffage doux intégré: Un élément chauffant de 30 Watt, 12 V se trouve dans la cavité du fermenteur entre le corps extérieur et le cône. Contrairement aux éléments / sources de chauffage standard qui chauffent directement le liquide, cette source de chaleur est conçue pour chauffer l'environnement situé entre les parois du fermenteur, qui à son tour chauffe le liquide. Le fermenteur agit comme un environnement artificiel pouvant être chauffé, ce qui signifie que la température est élevée de manière uniforme et contrôlée, ce qui est meilleur pour la levure.
Manchon de refroidissement intégré: Entre les deux parois en acier inoxydable se trouve un manchon de refroidissement (également en acier inoxydable). Ce manchon de refroidissement est soudé sur la paroi interne du fermenteur et peut être raccordé au refroidisseur de glycol (vendu séparément). La température est réglée dans le régulateur de température et, lorsque le liquide de refroidissement passe à travers ce manchon, il refroidit l'acier inoxydable, qui refroidit également la bière dans le fermenteur. Le manchon de refroidissement n'entre jamais en contact avec la bière, il est complètement dissimulé, intégré au fermenteur et n'a jamais besoin d'être nettoyé ni désinfecté - une véritable innovation pour un fermenteur de cette taille.
Accès facile à l'intérieur pour un nettoyage sans tracas: La cuve de fermentation conique Grainfather a un intérieur lisse sans ajouts tels que des serpentins de refroidissement ou des vannes d'échantillonnage supplémentaires, ce qui simplifie le nettoyage et minimise les risques d'infection.
Golden Angle Conical: La forme conique du fermenteur est typique des brasseries professionnelles. Notre conique a été conçu avec le "Golden Angle" de 60º. C'est l'angle optimal pour que la levure et les sédiments tombent au fond du cône sans rester collés sur les côtés, vous permettant ainsi de passer du haut de la ligne de sédimentation, ce qui rend la bière plus claire. La forme conique permet également un meilleur mélange lors de la fermentation grâce au chemin des courants de convention qu'elle permet de produire.
Assistance: Notre équipe de support est à votre disposition pour toute question technique sur le brassage ou le fonctionnement de Conical Fermenter, ainsi que pour les demandes de service à la clientèle générales. Tous les fermenteurs coniques de Grainfather viennent avec une garantie de 24 mois.