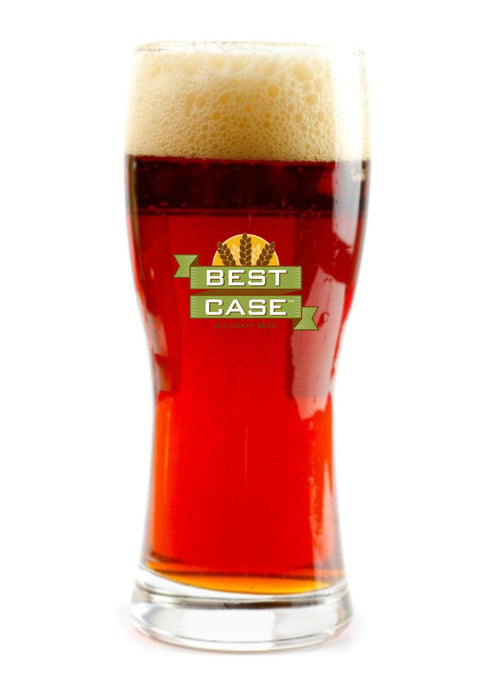 Best Case King's Royal Red Bitter
by Best Case Beer
This is a typical English style ale. It derives its reddish colour from a small amount of roast barley. It has a balanced yet pronounced hop bitterness, and a fresh hop aroma. It has a low carbonation level, allowing its character to come through. Serve at cellar temperature 50 - 55 degrees F. ~  10 - 14 degrees C.
O.G. 1.049-51 | F.G. 1.012-14 | ABV 5.0% | IBU 20
(Values are approximate) 
Makes 23 Litres!
Best Case is a complete beer recipe, containing malt extract, crushed grains, steeping bag, hops, yeast and priming sugar. With easy to follow instructions, it has never been easier to brew your own delicious craft beer. All you need is a pot and regular beer fermenting equipment.
Become your own Brew Master and taste the difference that fresh ingredients make.
*Estimated alcohol contents for Best Case beer assume you are adding the priming sugar at bottling (which contributes approximately 0.3% alc./vol.)
Best Case King's Royal Red Bitter
C'est un style amer traditionnel anglais. Un arôme frais de houblon d'East Kent Goldings équilibre cette savoureuse «bière de session».
C'est une bière typiquement anglaise. Sa couleur rougeâtre provient d'une petite quantité d'orge rôtie. Elle a une amertume de houblon équilibrée mais prononcée, ainsi qu'un arôme de houblon frais. Elle a un faible niveau de carbonatation, permettant à son caractère de se manifester. Servir à la température de la cave entre 50 et 55 ° F. ~ 10 - 14 ° C.
O.G. 1.049-51 | F.G. 1.012-14 | ABV 5.0% | IBU 20
(Les valeurs sont approximatives)
Donne 23 litres!
Best Case est une recette de bière complète contenant de l'extrait de malt, des grains broyés, un sac de trempage, du houblon, de la levure et du sucre d'amorçage. Avec des instructions faciles à suivre, il n'a jamais été aussi facile de brasser votre propre bière artisanale. Tout ce dont vous avez besoin est une marmite et du matériel de fermentation.
Devenez votre propre Brew Master et goûtez à la différence des ingrédients frais.
* La teneur estimée en alcool de la bière Best Case si vous ajoutez le sucre d'amorçage à la mise en bouteille (ce qui représente environ 0,3% alc./vol.).