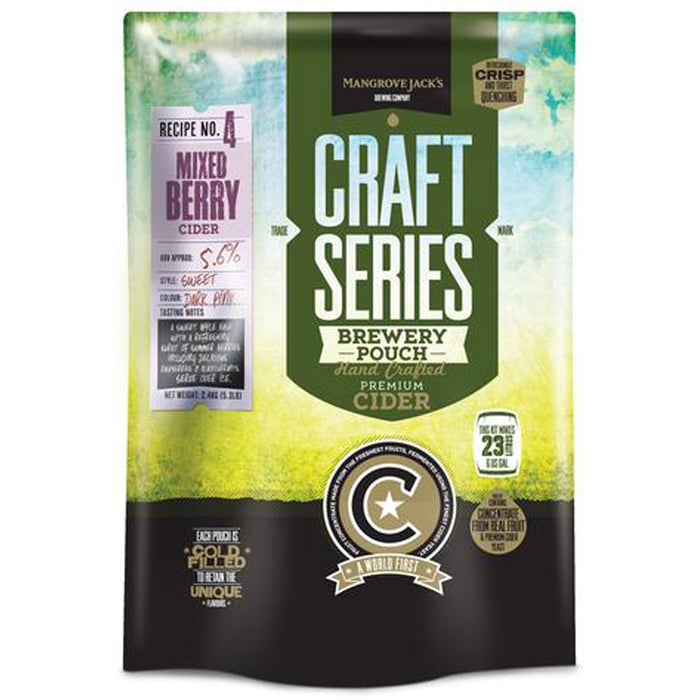 Mangrove Jack's Cider - Mixed Berry
by Mangrove Jack's
A sweet apple base with a refreshing burst of summer berries including delicious raspberries and blackcurrants. Serve over ice.
ABV Approx: 5.6%
Colour: Dark pink
Style: Sweet
Makes: 23 L
Each of our cider varieties has been formulated with only the freshest and best quality fruit which is then pressed and concentrated using our state of the art evaporators, and then cold filled into a pouch. All this effort we go to ensures we preserve the natural flavour of the fruit, giving you cider which is fresh, crisp and especially good on a hot summer's day. If you don't like apples, just remember a cider a day also keeps the doctor away.
1 kg of Dextrose needs to be purchased in addition. 
Mangrove Jack's Cidre - Mélange de baies
Une base de pomme sucrée avec un éclat rafraîchissant de baies d'été comprenant de délicieuses framboises et de mûres. Servir sur de la glace.
Valeur approximative: 5,6%
Couleur: rose foncé
Style: doux
Donne: 23 L
Chacune de nos variétés de cidre a été formulée avec le fruit le plus frais et de la meilleure qualité, qui est ensuite pressée et concentrée à l'aide de nos évaporateurs à la pointe de la technologie, puis conditionnée à froid dans une poche. Tous ces efforts nous permettent de préserver la saveur naturelle du fruit en vous offrant un cidre frais, croquant et particulièrement bon lors d'une chaude journée d'été.

1 kg de dextrose doit être acheté en plus.