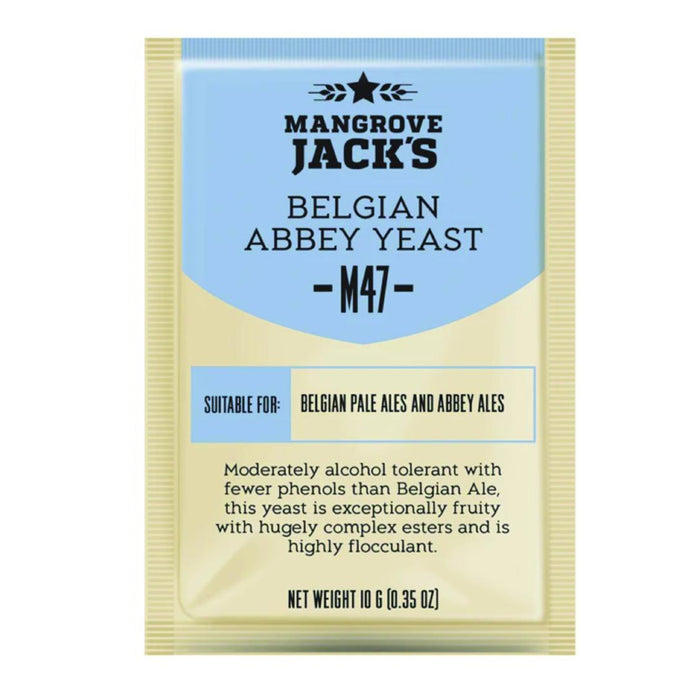 Yeast - Mangrove Jacks Belgian Abbey 10g
by Mangrove Jack's
Moderately alcohol tolerant with fewer phenols than Belgian Ale, this yeast is exceptionally fruity with hugely complex esters and is highly flocculant.
Suitable for Belgian Pale Ales and Abbey Ales
Attenuation: High
Flocculation: High
Usage Directions: Sprinkle directly on up to 23 L (6 US Gal) of wort. For best results, ferment at 18-25 degrees C (64-77 degrees F).
Yeast - Mangrove Jacks Belgian Abbey 10g
Modérément tolérante à l'alcool et contenant moins de phénols que la bière Belge, cette levure est exceptionnellement fruitée avec des esters extrêmement complexes et est très floculante.
Convient pour les bières belges.
Atténuation: élevée
Floculation: haute
Mode d'emploi: Saupoudrer directement sur jusqu'à 23 L (6 US Gal) de moût. Pour de meilleurs résultats, fermentez à 18-25 ° C (64-77 ° F).