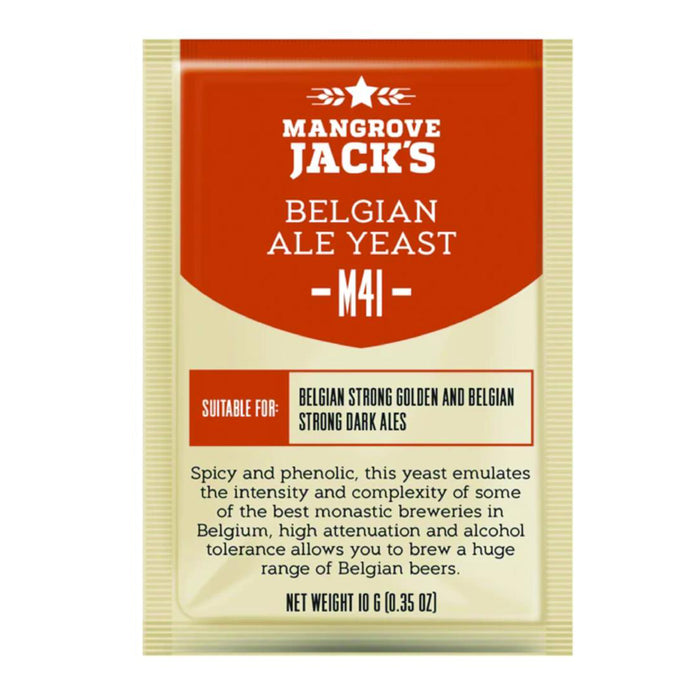 Yeast - Mangrove Jacks Belgian Ale 10g
by Mangrove Jack's
Spicy and phenolic, this yeast emulates the intensity and complexity of some of the best monastic breweries in Belgium. High attenuation and alcohol tolerance allow you to brew a huge range of Belgian beers.
Suitable for Belgian Strong Golden and Belgian Strong Dark Ales.
Attenuation: Very High
Flocculation: Medium
Usage Directions: Sprinkle directly on up to 23 L (6 US Gal) of wort. For best results, ferment at 18-28 degrees C (64-82 degrees F).
Yeast - Mangrove Jacks Belgian Ale 10g
Épicée et phénolique, cette levure imite l'intensité et la complexité de certaines des meilleures brasseries monastiques de Belgique. Une forte atténuation et une grande tolérance à l'alcool vous permettent de brasser une vaste gamme de bières belges.
Convient aux Belgian Dark Golden et Belgian Strong Ales.
Atténuation: très élevée
Floculation: moyenne
Mode d'emploi: Saupoudrer directement sur jusqu'à 23 L (6 US Gal) de moût. Pour de meilleurs résultats, fermentez à 18-28 degrés C (64 à 82 degrés F).