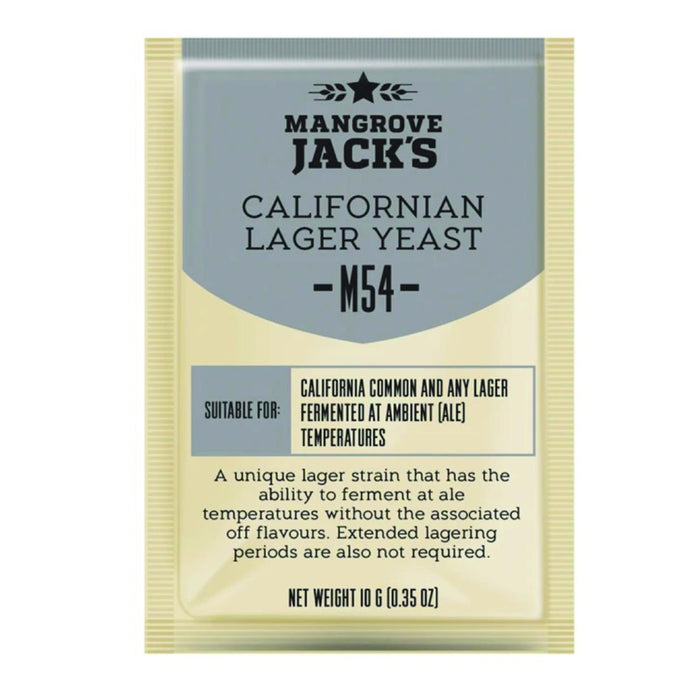 Yeast - Mangrove Jacks California Lager 10g
by Mangrove Jack's
A unique lager strain that has the ability to ferment at ale temperatures without the associated off flavours. Extended lagering periods are also not required.
Suitable for California Common and any lager fermented at ambient (ale) temperatures.
Attenuation: High
Flocculation: High
Usage Directions: Sprinkle directly on up to 23 L (6 US Gal) of wort. For best results, ferment at 18-20 degrees C (64-68 degrees F).
Yeast - Mangrove Jacks California Lager 10g
Une souche de lager unique qui a la capacité de fermenter à la température de la bière sans les arômes associés. Des périodes de lager prolongées ne sont pas non plus nécessaires.
Convient à California Common et à toute bière blonde fermentée à la température ambiante.
Atténuation: élevée
Floculation: haute
Mode d'emploi: Saupoudrer directement sur jusqu'à 23 L (6 US Gal) de moût. Pour de meilleurs résultats, fermentez à 18-20 degrés C (64-68 degrés F).