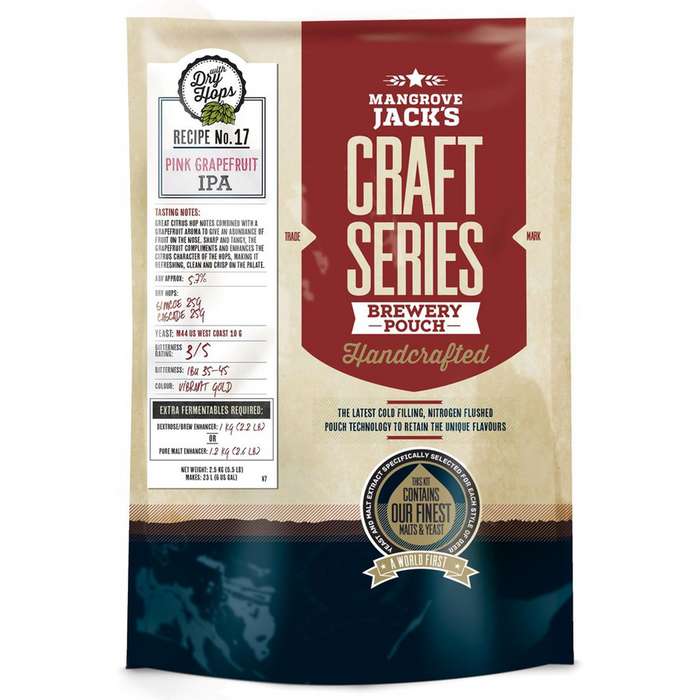 Mangrove Jack's Craft Series Beer Pouch - Pink Grapefruit IPA
by Mangrove Jack's
These beer kits come in the latest foil pouch. Each pouch is cold filled using the latest nitrogen technology to provide the ultimate contamination-free products. The low-temperature process retains the delicate flavours and aromas traditionally lost during the pasteurization of cans by prolonged heating and hot filling. 
Inspired by Brew Dog's Elvis Juice Citrus IPA, this contains great citrus hop notes combined with grapefruit aroma to give an abundance of fruit on the nose. Sharp and tangy, the grapefruit complements and enhances the citrus character of the hops, making it refreshing, clean and crisp on the palate. 
Approx ABV: 5.7% 
IBU: 35 - 45 

Final Volume: 23L (6 US GAL)
Brewing Sugar Required: 1 kg Dextrose/Brew Enhancer

Mangrove Jack's - Pink Grapefruit IPA TEMPS LIMITÉS
Ces kits de bière sont livrés dans une pochette en aluminium. Chaque sachet est rempli à froid à l'aide de la dernière technologie à l'azote afin de fournir les meilleurs produits sans contamination. Le procédé à basse température conserve les saveurs délicates et les arômes traditionnellement perdus lors de la pasteurisation des conserves.
Inspiré de l'IPA Elvis Juice de Brew Dog, il contient d'excellentes notes d'agrumes, combinées à un arôme de pamplemousse, pour une abondance de fruits au nez. Le pamplemousse, vif et acidulé, complète et rehausse le caractère citronné du houblon, le rendant rafraîchissant, net et craquant au palais.
Valeur approximative: 5,7%
IBU: 35 - 45
Volume final: 23L (6 US GAL)
Sucre de dextrose: 1kg