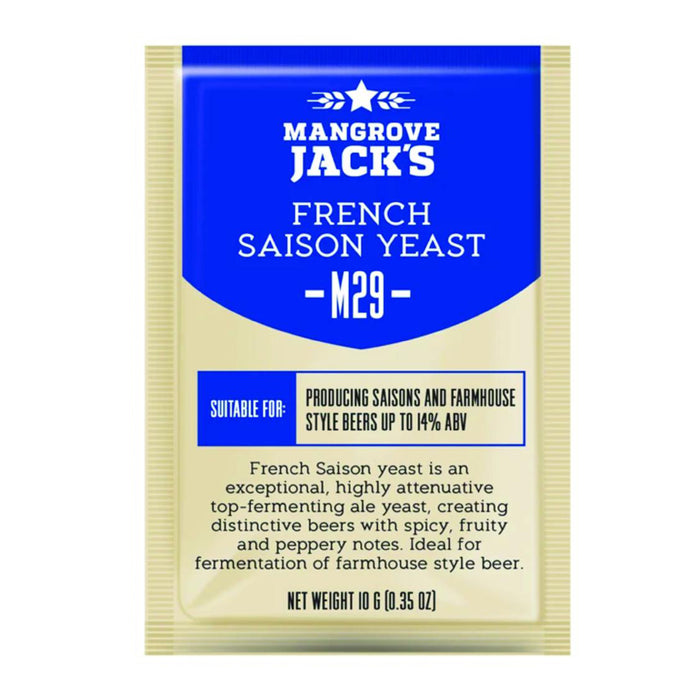 Yeast - Mangrove Jacks French Saison 10g
by Mangrove Jack's
French Saison yeast is an exceptional, highly attenuative top-fermenting ale yeast, creating distinctive beers with spicy, fruity and peppery notes. Ideal for fermentation of farmhouse style beer.
Suitable for producing Saisons and farmhouse style beers up to 14% ABV.
Attenuation: Very High
Flocculation: Medium
Usage Directions: Sprinkle directly on up to 23 L (6 US Gal) of wort. For best results, ferment at 26-32 degrees C (79-90 degrees F).
Yeast - Mangrove Jacks French Saison 10g
La levure French Saison est une levure de bière de fermentation haute exceptionnelle, très atténuée, qui crée des bières distinctives aux notes épicées, fruitées et poivrées. Idéal pour la fermentation des Farmhouses.
Convient à la production de bières Saisons et de bières farmhouses jusqu'à 14% en volume.
Atténuation: très élevée
Floculation: moyenne
Mode d'emploi: Saupoudrer directement sur jusqu'à 23 L (6 US Gal) de moût. Pour de meilleurs résultats, fermentez à une température de 26 à 32 ° C (79 à 90 ° F).