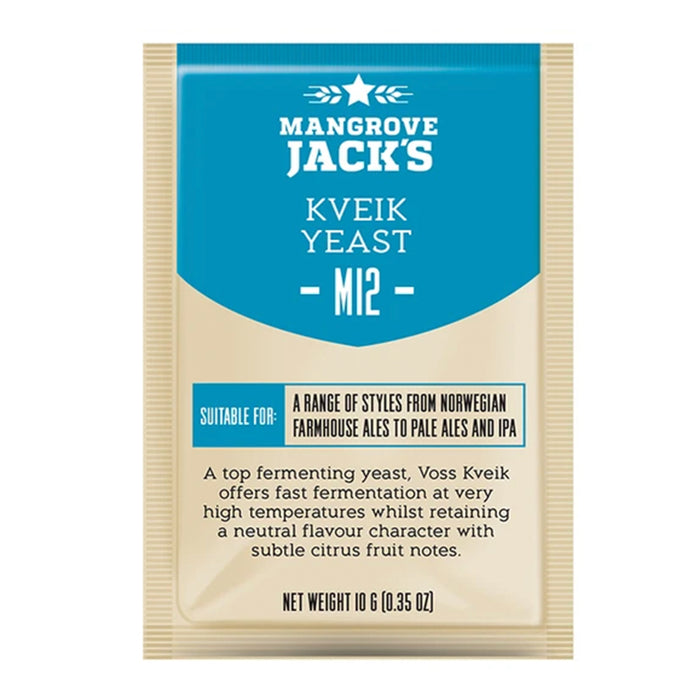 Mangrove Jacks Kveik Yeast 10g
by Mangrove Jack's
A top fermenting yeast, Voss Kveik offers fast fermentation at very high temperatures whilst retaining a neutral flavour character with subtle citrus fruit notes.
M12 Kveik Yeast is suitable for a range of styles from Norwegian Farmhouse Ales to Pale Ales and IPAs.
Attenuation: High
Flocculation: Very High

Usage Directions: Sprinkle contents directly on up to 23 L (6 US Gal) of wort. For best results ferment at 20-40 °C (86-104 F).
Levure - Mangrove Jacks Kveik 10g
Levure de fermentation haute, Voss Kveik offre une fermentation rapide à très haute température tout en conservant un caractère de saveur neutre avec de subtiles notes d'agrumes. Elle convient à une gamme de styles allant des bières norvégiennes aux bières pâles et  IPA. 
Atténuation: élevée (77-82%) 
Floculation: très élevée (5/5) 
Mode d'emploi: Saupoudrer le contenu directement dans un maximum de 23 L (6 gal US) de moût. Convient pour fermenter 20-40 ° C (68-104 ° F) mais pour des résultats optimaux fermenter à 30-40 ° C (86-104 F).