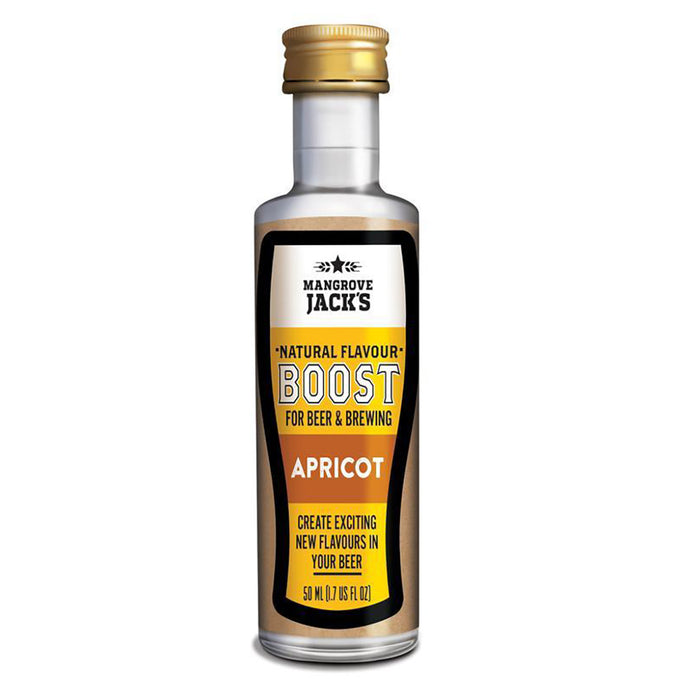 Mangrove Jack's Natural Beer Flavouring - Apricot
by Mangrove Jack's
Add exciting natural flavouring to your beer! Derived from natural ingredients, Mangrove Jack's Natural Flavour Boosts allow you to add a new element of flavour to your beer.
Create a huge range of unique beer creations with fantastic flavours to experiment with! Apricot has a fruity aroma with a well-rounded apricot flavour. Great for Wheat, Pale Ales and Pils.
How it works: With two ways to add Mangrove Jack's Natural Flavour Boosts to your beer, experimentation is easy. Either pour a full bottle of flavouring into your entire batch of beer before bottling or add 1.5 ml of flavouring per bottle before carbonation.
For full instructions, see product label. The above is just a guide, flavour to your own taste.
Mangrove Jack's Natural Beer Flavouring - Apricot
Ajoutez des arômes naturels excitants à votre bière! Dérivés d'ingrédients naturels, les boosters de saveurs naturelles de Mangrove Jack vous permettent d'ajouter un nouvel élément de saveur à votre bière.
Créez une vaste gamme de créations de bière uniques aux saveurs fantastiques à expérimenter! Une saveur d'abricot bien arrondi. Idéal pour les pâles Ales et les pils.
Comment ça marche: Expérimenter est facile grâce aux deux façons d'ajouter des boosters d'arôme naturels Mangrove Jack à votre bière. Versez une bouteille complète d'arôme dans votre lot de bière avant la mise en bouteille ou ajoutez 1,5 ml d'arôme par bouteille avant la carbonatation.
Pour des instructions complètes, voir l'étiquette du produit. Ce qui précède n'est qu'un guide.