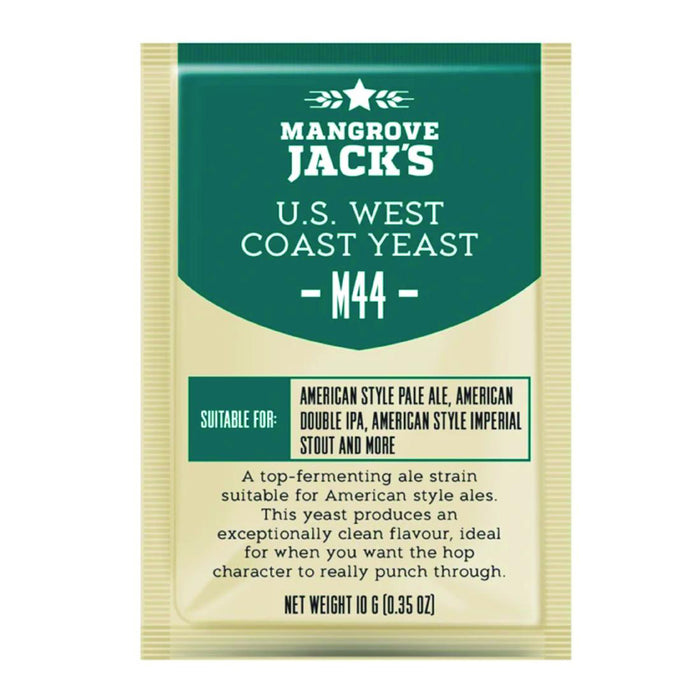 Yeast - Mangrove Jacks West Coast 10g
by Mangrove Jack's
A top fermenting ale strain suitable for American style ales. This yeast produces an exceptionally clean flavour, ideal for when you want the hop character to really punch through.
Suitable for American style pale ale, American double IPA, American style imperial stout and more.
Attenuation: High
Flocculation: High
Usage Directions: Sprinkle contents directly on up to 23 L (6 US Gal) of wort. For best results ferment at 18-23 degrees C (59-74 degrees F).
Yeast - Mangrove Jacks West Coast 10g
Une souche de bière de fermentation haute qui convient aux bières à l'américaine. Cette levure produit une saveur d'une netteté exceptionnelle, idéale lorsque vous voulez que le caractère du houblon soit vraiment percutant.
Convient pour la bière blonde à l'américaine, le double IPA américain, la bière impériale à l'américaine et plus encore.
Atténuation: élevée
Floculation: haute
Mode d'emploi: Saupoudrer le contenu directement sur jusqu'à 23 L (6 US Gal) de moût. Pour de meilleurs résultats, fermentez à 18-23 degrés C (59-74 degrés F).