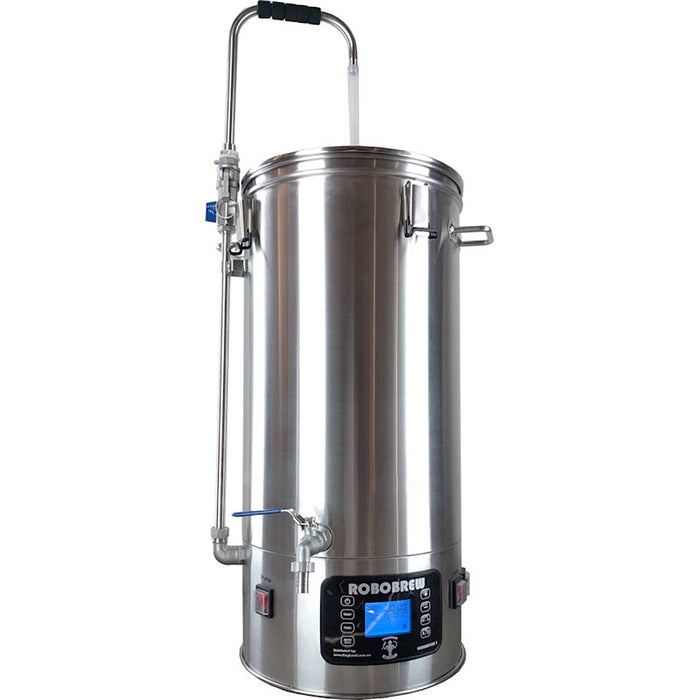 Brewzilla (RoboBrew) V3.1.1 with Pump 35L
by Best Case Wholesale
Fully cUL Certified
The Brewzilla (RoboBrew) is designed to be a compact single vessel all grain home brewing system that 110v power so it can be plugged in anywhere. It is a complete turnkey system with a delay timing feature and step mash functionality. 
Built to make batches up to 30L (35L total volume), it is the ideal solution for those who want to take the first step in all grain brewing and don't want to break the bank.
System Includes:
Immersion Chiller
Digital Backlit Temperature Control/Display
Delay Start Timer
Step Mash Functionality
Malt Pipe & Malt Pipe attachments
Dual Element Control (1000w and 500w)
Stainless ½" BSP Ball Valve with 13mm barb fitting
Magnetic drive pump mounted in the base of the unit
Brewzilla (RoboBrew) V3 avec pompe
Entièrement certifié cUL
Le RoboBrew est conçu pour être un système compact de brassage à la maison pour le grain, à une seule cuve, d'une puissance de 110 V afin de pouvoir être branché n'importe où. Il s'agit d'un système clé en main complet avec une fonction de temporisation et une fonctionnalité de mélange progressif.
Conçu pour fabriquer des lots allant jusqu'à 30L, c'est la solution idéale pour ceux qui veulent faire le premier pas dans le brassage du grain et ne veulent pas casser leur tirelire.
Le système comprend:
Immersion Chiller
Contrôle / affichage de température rétroéclairé numérique
Retardateur minuterie
Fonctionnalité Step Mash
Accessoires de tuyau de malt et de tuyau de malt
Contrôle à deux éléments (1900w et 500w)
Robinet à tournant sphérique BSP 1/2 "en acier inoxydable avec raccord à ardillon de 13 mm
Pompe à entraînement magnétique montée dans la base de l'unité