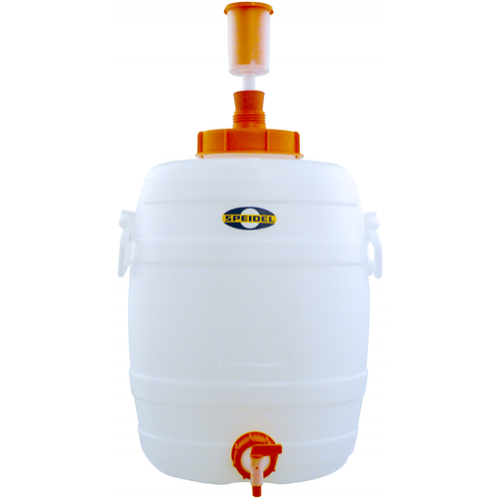 Speidel 30L All-In-One Beer Fermenter
by Speidel
Although these German engineered 30 L fermenters are new to Canada, our industry friends in the US tell us they've been doing very well for a few years! One large on-line retailer currently has feedback of 4.7 stars (out of five with 300 reviews.)
We believe these 'single stage fermenters' will appeal to all home brewers; from intermediate to advanced. Large enough to ferment a full 23 L easily, it will be difficult for your customers to make bad beer in this if you can convince them to keep it clean, and stay out of it until bottling day.
These fermentation tanks are of genuine Speidel quality. High-quality materials and clean processing guarantee you a long time enjoyment of your fermentation vessels. And thus also your beer. Because beer is only ever as good as fermentation, they say.
We only use undyed, food-safe PE plastic for our fermentation tanks. The particularly thick wall not only provides stability, but also preserves its aroma. The large opening allows a thorough cleaning, which is very easy anyway due to the extra smooth inner walls and the well thought-out curves.
The »original« beverage container
Tried and trusted for decades
Thick-walled for the best, long-lasting aroma
Made in Germany
Certified food safe
Robust carrying handle
Air Lock/Stopper, bottling tap & cap included