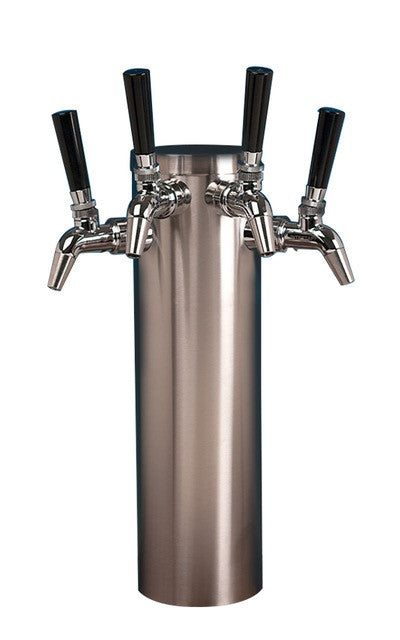 Tap - Quadruple SS Tower with Stainless Steel NUKA
by Best Case Wholesale
Forward Sealing
First Pour Foam Reduction in Thermal Mass
Improved Laminar Flow
Most Sanitary Forward Sealing Design 
Longer Life Seals
More Versatile Tap Handle Angle
In normal rear-sealing faucets, the faucet allows beer to drain out after pouring. In forward-sealing faucets the faucet keeps beer in it so the inside doesn't have a chance to get sticky, making cleaning much easier. It also reduces the chance of off flavours from contamination.
The threaded spout easily unscrews from the faucet and can be replaced by a growler filler or stout spout quickly and easily. Pour a pint and then fill a growler in no time at all.
Tap - Tour Acier Inox. avec NUKATAP
Conception d'étanchéité la plus sanitaire

Réduction de la mousse de première coulée dans la masse thermique

Flux laminaire amélioré

Joints à durée de vie

Angle de poignée de robinet plus polyvalent
Dans les robinets à scellage-arrière normaux, le robinet permet à la bière de s'écouler après le versement. Dans les robinets à scellage-avant, le robinet garde la bière à l'intérieur pour que l'intérieur ne soit pas collant, ce qui facilite le nettoyage. Il réduit également les risques de contamination par les arômes.
Le bec fileté se dévisse facilement du robinet et peut être remplacé rapidement et facilement par un remplisseur de growler ou un bec pour stout.