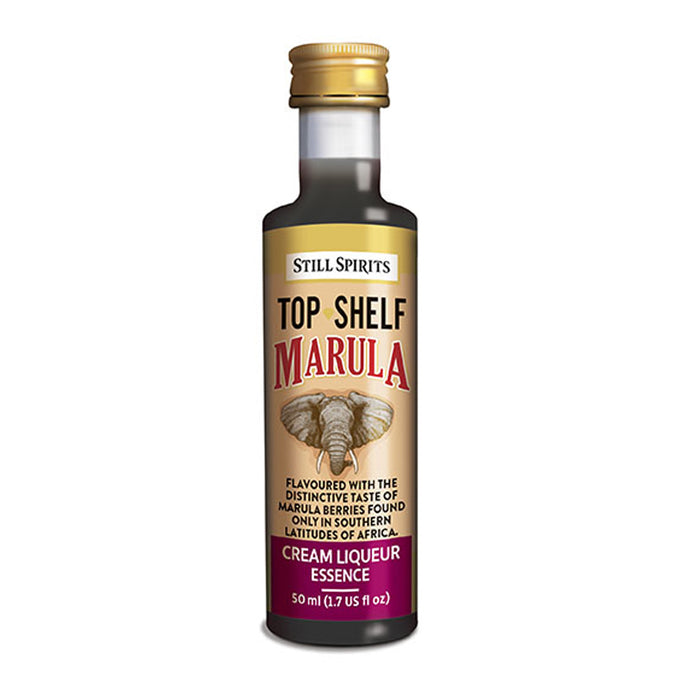 Top Shelf - Marula Cream Liqueur
by Still Spirits
Flavoured with the distinctive taste of Marula berries found only in Southern latitudes of Africa.
Shake well before use. Mix Top Shelf Base - Cream in 220 ml (7 US fl oz) of hot water. Add this flavouring followed by 500 ml (17 US fl oz) of 40% ABV neutral alcohol or vodka. Top up to 1.125 L (38 US fl oz) with water.
Alternatively use 200ml of sugar and 500ml of cream.
Top Shelf - Crème Marula 
Aromatisé avec le goût distinctif des baies de Marula que l'on ne trouve que dans le sud de l'Afrique
Bien agiter avant usage. Mélanger la Top Shelf Base - Crème dans 220 ml (7 oz liq. US) d'eau chaude. Ajoutez cet arôme suivi de 500 ml (17 US fl oz) d'alcool neutre à 40% ABV ou de vodka. Remplir jusqu'à 1,125 L (38 US fl oz) avec de l'eau.
Vous pouvez également utiliser 200 ml de sucre et 500 ml de crème.