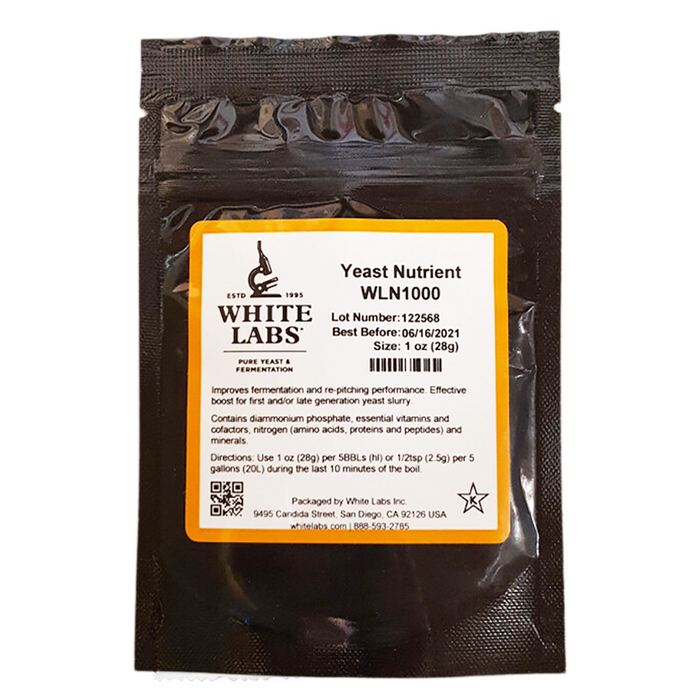 White Labs WLP1000 Yeast Nutrient (1oz)
by White Labs
Used to increase the health of yeast. Improves fermentation and re-pitching performance. Contains diammonium phosphate, essential vitamins and co-factors, nitrogen (amino acids, proteins, and peptides) and minerals. Effective boost for first and/or late generation yeast slurry. If grist is not 100% malt, then yeast nutrient can help make up for lack of nutrients. 
For homebrew use, each 1/2 tsp. from the vial is good for 5 gallons. This nutrient should be added during the last 10 minutes of the boil. 
Élément nutritif de levure WLP1000 de White Labs (1 oz)
Utilisé pour améliorer la santé de la levure. Améliore les performances de fermentation et de re-tangage. Contient du phosphate diammonique, des vitamines et des co-facteurs essentiels, de l'azote (acides aminés, protéines et peptides) et des minéraux. Stimulation efficace de la boue de levure de première et / ou de dernière génération. Si le grist n'est pas à 100% de malt, alors les nutriments à base de levure peuvent aider à compenser le manque d'éléments nutritifs.
Pour une utilisation homebrew, chaque 1/2 c. de la fiole est bon pour 5 gallons. Cet élément nutritif doit être ajouté au cours des 10 dernières minutes de l'ébullition.