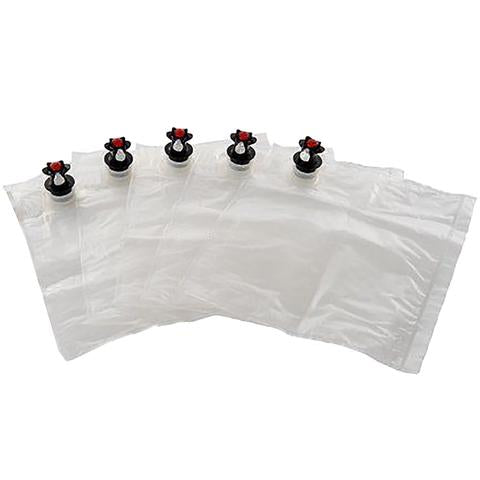 Wine Poke Refill Bags (5 Pack)
by Best Case Wholesale
These mylar Wine Poke refill bags come with a dispenser tap, are pre-sanitised, and ready to fill. 5 bags will hold a 23 litre batch of wine.
Remove the black tap from the bags and fill through the hole, using standard siphoning equipment (racking tube, hose, pinch clamp, and bottle filler). Siphon approximately 4.5 L into each bag. Do not overfill the bags or they will be more difficult to load into the dispenser.
When full, replace the black tap, pushing it tightly into the neck of the bag. Make sure the tap is snapped in ALL THE WAY or it will pop out!
If necessary, squeeze bag slightly holding it by the tap (with the tap open) to remove air space.
Load into your Wine Poke and position the nozzle for dispensing.
Sacs de recharge Wine Poke (paquet de 5)
Ces sachets de recharge Wine Poke de Mylar sont livrés avec un robinet distributeur, pré-assainis et prêts à être remplis. 5 sacs contiendront un lot de 23 litres de vin.
Enlevez le robinet noir des sacs et remplissez-le par le trou en utilisant un siphoneur standard (tube de soutirage, tuyau, pince-pincement et remplisseur de bouteilles). Siphon environ 4,5 L dans chaque sac. Ne surchargez pas les sacs, sinon ils seront plus difficiles à charger dans le distributeur.
Une fois rempli, replacez le robinet noir en le poussant fermement dans le cou du sac. Assurez-vous que le robinet est bien enclenché ou il ressortira!
Si nécessaire, serrez légèrement le sac en le tenant par le robinet (robinet ouvert) pour éliminer l'air.
Chargez dans votre Wine Poke et positionnez la buse pour la distribution.