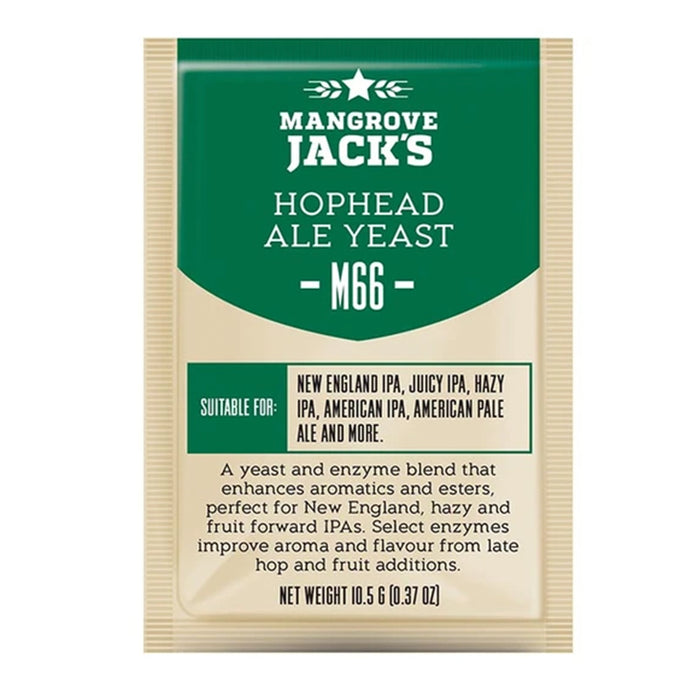 Yeast - Mangrove Jack's Hophead Ale 10g
by Mangrove Jack's
A yeast enzyme blend that enhances aromatics and esters, perfect for New England, hazy and fruit forward IPAs. Select enzymes improve aroma and flavour from late hop and fruit additions.
M66 Hophead Ale Yeast is suitable for New England IPAs, Juicy IPAs, Hazy IPAs, American IPAs, American Pale Ales and more.
Attenuation: Medium (74-82 %)
Flocculation: High (4/5)
Usage Directions: Sprinkle contents directly onto a maximum of 23 L (6 US Gal) of wort. Suitable to ferment at 18-22°C (64-72°F).
Levure - Mangrove Jack's Hophead Ale 10g
Un mélange d'enzymes de levure qui améliore les aromatiques et les esters, parfait pour les IPA de Nouvelle-Angleterre, brumeux et fruités. Certaines enzymes améliorent l'arôme et la saveur des ajouts tardifs de houblon et de fruits.
La levure M66 Hophead Ale convient aux IPA de la Nouvelle-Angleterre, aux IPA juteuses, aux IPA brumeuses, aux IPA américaines, aux ales pâles américaines et plus encore.
Atténuation: moyenne (74-82%)
Floculation: haute (4/5)
Mode d'emploi: Saupoudrer le contenu directement sur un maximum de 23 L (6 gal US) de moût. Convient pour fermenter à 18-22 ° C (64-72 ° F).