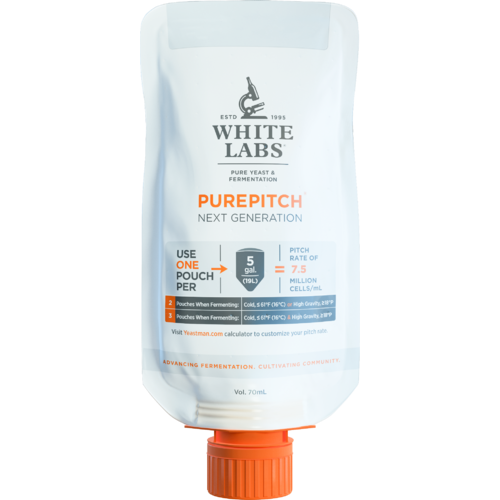 Yeast - White Labs WLP565 Belgian Saison Next Gen
by White Labs
Classic Saison yeast from Wallonia. It produces earthy, peppery, and spicy notes. Slightly sweet. With high gravity saisons, brewers may wish to dry the beer with an alternate yeast added after 75% fermentation.
Note to brewers: This strain tends to stall out in fermentation and then restart as long as two weeks later. Make sure the wort is well-oxygenated and allow the temperature to free rise in order to ensure complete fermentation. Some brewers add WLP001 to finish.
| | |
| --- | --- |
| ATTENUATION  | 78 - 85% |
| FLOCCULATION  | Medium |
| ALCOHOL TOLERANCE | Very High (15%+) |
| FERMENTATION TEMP. | 20-30°C (68-85°F) |
| STA1 | Positive |
SUGGESTED STYLES
Belgian Dubbel • Belgian Pale Ale • Belgian Tripel • Saison • Witbier

Levure - White Labs WLP565 Belgian Saison

Levure Saison Classique de Wallonie. Elle produit des notes terreuses, poivrées et épicées. Légèrement sucré. Avec des saisons à haute densité, les brasseurs peuvent sécher la bière avec une levure de remplacement ajoutée après une fermentation à 75%.
Note aux brasseurs: Cette souche a tendance à caler dans la fermentation et à recommencer jusqu'à deux semaines plus tard. Assurez-vous que le moût est bien oxygéné et laissez la température monter librement afin d'assurer une fermentation complète. Certains brasseurs ajoutent WLP001 pour finir.